Looking back at the past to understand the situation of women overtime, we see that the societal organization pattern was different when it comes to discrimination between women and men. In Primitive Communism time, many social groups were based in a matriarchy. These societies gradually changed to a patriarchal model of organization. Nowadays, women became more and more the base of an exploitative system that was discriminatory and violent against them. Even so, women are always the ones leading the struggles for social justice. Many rights have been achieved as a result of contributions of our leading women heroes in the movements.
This article presents some reflections and data on confronting patriarchal violence, women's work in the countryside and in the city, and women's participation in politics, with special references to Nepalese and Asian experiences.
Patriarchal Violence in Asia
If we talk openly about violence and discrimination, women are forced to suffer it inhumanely in all areas of life – socially, culturally, sexually, physically, mentally, politically and economically – just because they are women. The struggles against violence, for property rights and equality have been the main agendas of women's struggles around the world nowadays.
However, specifically in South Asia, while studying the forms of violence against women, other issues appear, such as feticide [when female fetuses are killed in the womb], physical violence, the dowry system, death by burning, witchcraft accusations, stoning, sexual violence, child marriage, and polygamy. And more: women suffer from acid attacks, murder after rape, brutal rape, heavy work load, verbal abuse, financial violence, not being allowed to eat, violence in the political field and other discriminations. Trafficking of women is another heinous form of violence against women in South Asian countries. The statistics shows of that more than 8 thousand women and girls are trafficked from Nepal every year.
Among all forms of discrimination, the dowry system is the main cause of violence against women in Nepal, India, and Pakistan. This system is brutal against women, both by gender and by class. A rich family can honor the groom's favor by spending a lot of money on the daughter's marriage and give him generous dowry. This makes marriage difficult for a woman with no resources. Poor women end up being more susceptible to rape at young age, which leads to other problems such as the inhuman process of killing after rape. Victims of rape can be killed, hanged, and not only that, the responsible for the crime often makes it look like it was a suicide.
Women's Work
Although the industry has started to develop, the economy of these countries is dominated by agriculture. In this region, many women have adopted an agricultural profession, and their role is very important both for subsistence and commercial farming. In Asia, women participate in more than 50% of rice production. 70% of the female population in Nepal are involved in agriculture. They are 84.3% of the workforce in agriculture, while man represents only 15.7%. In addition, women farmers have acquired better skills in the arts of seed selection, protection, cultivation, harvesting, seedling transplantation, and storage of food and seeds. They have also acquired the knowledge to properly protect the environment.
Though women being the main workforce in the field, they face discrimination when engaged in agriculture. Factually, women's participation in the agricultural sector is increasing due to out migration of rural youths and the feminization of agriculture. However, women-friendly agricultural materials and training are rarely available. Data based on the 1994 census on the country shows that women work more hours than men, they study less and are the main work force in manual work. But the challenge they face is that they have no say over income from farming, and housework done by them is not valued at par.
These problems need to be addresses by public policies, but government programs focused on peasant women are almost non-existent. The women are gradually being displaced from agriculture due to landlesness and others, they are moving to cities where they find less paid household manual work. It is hard to make ends meet for a woman due to lack of productive work, lack of expertises, as well as the unpaid care work they have to do. In our society, the work done by women is considered useless.
Also, there is no freedom in property and financial transactions without the permission of the husband. In Nepal, when the land is registered in the women's name, they get tax exemption of 25% government fee. So increasingly, husbands get their patches of land in his wives' names. Even at this pretext, about 19.71% of the country's land is in the name of women. Such gender inequality has caused great harm to women's efficiency. They are lagging behind in access to the market, including training.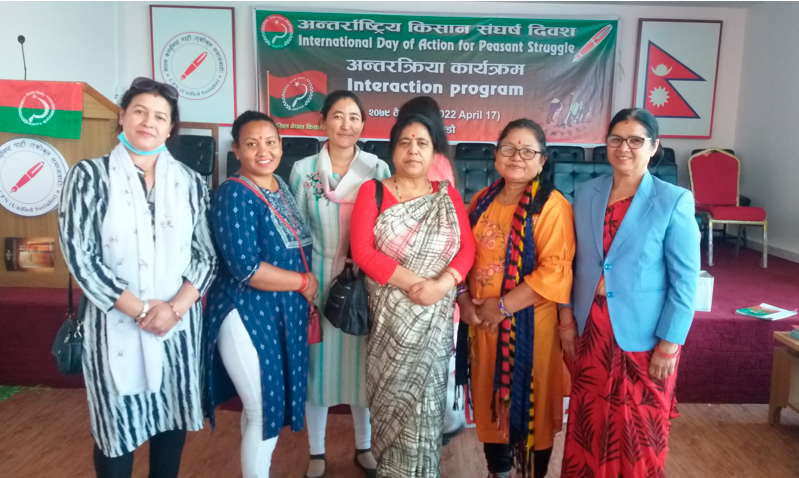 Policies for women in Asia
There has been a struggle towards equality between women and men. Therefore, various conventions are being held in the international arena for women's rights, equality between genders, property rights to women, political suffrage and to guarantee the right to political organizing. The outcomes of these conventions stipulate that states must ensure equal access to economic opportunities through political information, counseling facilities, and the right to receive direct benefits from social security programs, functional skills training, formal and informal training and employment.
In August 2009, in Dhaka, Bangladesh, a program against violence against women was organized by La Via Campesina. It included women representatives from nine countries, including South Korea, Japan, Taiwan, Philippines, Indonesia, Thailand, Bangladesh, India, and Nepal. This program discussed the violence against women in the South Asian region and made an action plan to stop it. Women has been outspoken on this issue and are working to end violence, discrimination, and inequality around the world.
In Nepal, as a result of the continuous movement against feudalism, women's participation in politics has increased. During the implementation of the Constitution of Nepal, the National Assembly had a 33% of women's participation. Besides that, a 34% of women in the Provincial Assembly and 40% in the local level have been ensured. The country has got a woman president, a woman speaker of the House of Representatives and a woman chief of justice. The demand of Nepali women is the representation of women at the policy-making level in an inclusive manner based on the population.
Political Participation
Taking a closer look at the presence of women in government structures and people's representative organizations, it can be mentioned that women are represented in only a few states. Currently, only 22 out of 200 countries in the world have a female head of state or head of government. 119 countries still haven't had any female head of state or head of government. Women make up only 21% of the world's executive bodies, while only 14 countries have more than 50% of female ministers.
Although the participation of women in the Council of Ministers has increased slightly, a study in Nepalese scenario, has shown that the responsibilities of general ministries such as Women, Children, Youth and Disabled, Social, Environment and Natural Resources and Energy have been given to women. Ministries such as Finance, Home and Internal Security, Foreign Affairs, Defense, Industry and Trade are rarely led by women. It sends a message that women are not trusted to exercise power and manage resources, or that women are not ready.
The state of representation in the legislature is also not encouraging, but it is gradually increasing. In 1995, only 11% of women in the world were represented in legislatures. This amount reached 25% by 2020. Policy interventions such as quotas and reservations are being made to increase women's representation in the legislature.
Women's representation at the local level is as significant, or even more, than in the national legislature. In a study conducted in 133 countries, the representation of women in local bodies is around 37%. It is more than 40% in 18 countries, and more than 50% in only two countries. In order to increase the representation of women, some countries have made special arrangements in local committees. In India, for example, 62% of the people involved in water supply committees are women. In Nepal, there is a provision that at least 33% of participants in local consumer committees should be women. The total number of members in primary cooperative organizations is 7.3 million, in which women represent 54%. But women's representation in such committees, assemblies and directly in civil bodies is low. For example, out of 29,886 cooperatives in Nepal, only about 4 thousand have women leading the management.
There is still a long way to go. We should not get tired of eradicating the deep-rooted differences in our society, we still have a long way to go to reach the goal. Violence against women is also based on such man-made and superstitious rituals, which should be eradicated at any cost. Women have been left behind by being deprived of opportunities and dignified conditions of living, but they are trying to move forward as much as possible by making use of what they have got.
Violence against women does not only affect women's ability and creativity. It damages the family and the entire society. Our demands will be heard only if we study and expand the movement in collaboration with various organizations working against women's violence. It is clear above all that the problems of women are almost the same all over the world. That is why it is not possible to run a movement or to struggle individually. We, oppressed women, need to unite nationally and internationally. We must unite our experiences to struggle together against all kinds of violence against us.
_____________________
Sabitri Neupane is a member of the Women Peasants' Association in Nepal.