The issues that migrant women face start way before they arrive in the country where they are seeking asylum. Many women lose their lives during the journey, and those who make it to the borders are not allowed to cross them, while often being criminalized. The European Border and Coast Guard Agency, known as Frontex, is the agency in charge of guarding the borders of all European Union (EU) countries and the Schengen1 associated countries. Frontex is an armed agency that is being used to stop migrants from coming in, not to ensure "security" and manage asylum claims, as it should, based on its objectives.
On May 15th, Switzerland will hold a popular vote on its participation and action as a Frontex country. The agency plans to increase its personnel, requiring more money from member states. To better understand grassroots feminist movements' stand on this vote, Capire spoke with Sophie Malka, coordinator of Vivre Ensemble Association, and Aude Martenot, a militant of the Solidarité Tattes Association, who challenged the migration policies of the European Union and denounced the violent actions taken by Frontex and the differences in asylum policies between those for people from EU countries and for countries of the global south.
In Europe, grassroots feminist movements denounce the violent migration policies that do not respect people's right to claim and be granted asylum. With a racist and patriarchal model based on the global north-south divide, borders contribute to increase precarious work and violence against migrants, especially migrant women, who are exploited and underpaid in care work and services, while also being subjected to sexual violence.
The Frontex website claims that their vision is to "protect the European state with freedom, security, and justice." What are the tools of this so-called "protection"? How have European feminists built a critical view in this regard?
Aude: Frontex is currently a roughly one-hundred strong army protecting Europe's external borders and using different tools to control these borders. We have verified that nothing is done to protect people or report cases of abuse. On the contrary, they ignore cases of abuse. It is all part of the European asylum policy that aims to block the illegal immigration of people who come here. Except that, at least in Switzerland's case, legal immigration is not possible. So of course the agency's only work is to stop people from coming in.
Frontex has been frequently denounced, especially recently, to the extent that there have been reactions in the European Parliament and, a few days ago, the executive director of the agency ultimately resigned. This clearly shows that Frontex does not work. Also, from a personal point of view, I believe that it's a kind of agency that cannot work, because as a fortress that only aims to protect itself from people coming in, it is impossible to pretend to organize or protect the people who are coming in. Whatever the format an army may use to block an area, it will only lead to violence and death.
Sophie: According to the principles of international law, anyone has the right to claim asylum outside their home country. This principle, which is widely acknowledged, is violated by Frontex, which stops people from crossing the borders.
There is really a problem with the mission of this agency. Security would not be necessary at all if the mission of Frontex were actually to fight drug trafficking and human trafficking. But we have a feeling that its main job is to wage war against migrants.
What can we say about the connections and responsibilities of Frontex regarding this migration policy and precarious work in Europe? For example, undocumented immigrants who are currently in Europe working in the cleaning industry. What is the role of Frontex in this precarious work policy?
Aude: When we talk about undocumented people, we are talking about those who come in and do not claim asylum. They enter the labor market on their own, without documents, thanks to their own contact network and their own means. Maybe they are not the same people. But it is all definitely part of the way Europe manages migration overall.
Switzerland has a very clear practice of keeping people under the highest level of precarious conditions when they first arrive in the country. You can see that at Frontex in asylum claims in Switzerland. A recent reform works with federal centers, holding people during the first few weeks after they arrive, to keep them in as long as possible and decide who can be quickly sent back and who is allowed to remain in the system and gradually get a status update.
That is possible because people do not have the means to access the justice system or seek support, not even to know their rights and make sure they are respected. This is part of a broader reflection on the precarious conditions facing migrants, which makes it possible to maintain this system and exploit them in broad and different ways, depending on the situation.
We have seen, with all the migration flows from Ukraine, that maybe it is possible to have a more humane, solidarity-based migration policy. What could change in the current migration policy in light of the reception and solidarity expressed toward Ukrainian refugees?
Sophie: Aude spoke earlier about the federal centers. People are basically held in "semi-detention" in these centers. They have to comply with strict hours coming in and out, they are imposed penalties if they don't come back in time, they are subjected to body searches every time they come in and out. All these measures, and the fact that they are not allowed to work from the moment they come to Switzerland, all that was experienced by the Ukrainian. This new reality shows how brutal and inhumane these practices are toward refugees today. As civil society is now denouncing that, we should try to imagine a new policy that welcomes people who are fleeing war, without discriminating against them.
Aude: This opening toward solidarity was also imposed because the Swiss population has mobilized a lot to demand this kind of welcoming approach. The Federal Council had no choice but to adapt. So, in fact, if one day, in exchange for a harsher policy, the thing that we fear happens, we will have to maintain the population as much as possible in solidarity. There is no difference between people who flee from war and extreme poverty. It is all shocking and profoundly exposes racism, because people from Ukraine are white and often Christian, therefore much closer to the Swiss in terms of background.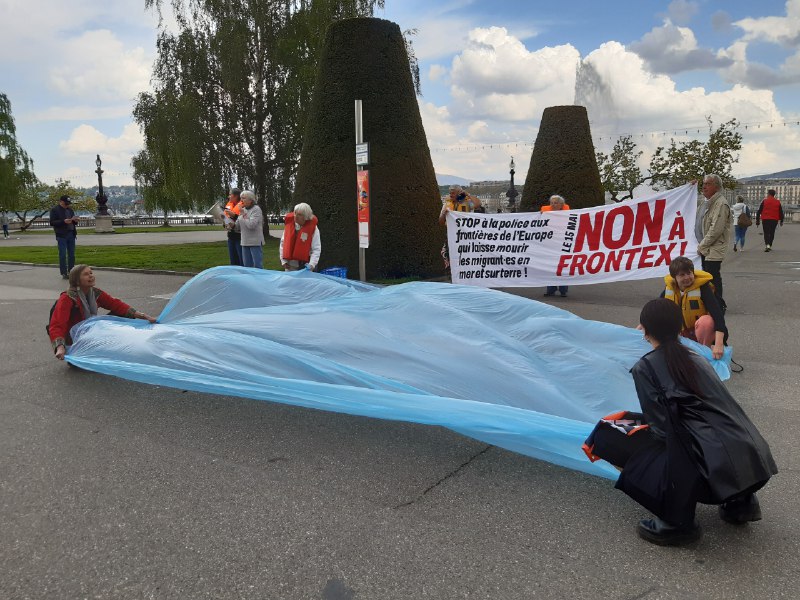 When regulating external borders of member states, Frontex is also in charge of controlling migration flows of people to these countries. After the 2015 migration crisis, the agency redesigned its plans to increase its operational personnel to have more border and coastal guards by 2027. What does increasing border control mean to migrant women's lives?
Sophie: Stronger borders will stop people from crossing them, even if they are trying to claim asylum. Meanwhile, all trafficking networks are becoming stronger and these women are more at the mercy of human traffickers, under extremely violent situations. There is a link between border control and the violence women experience on these journeys. It would be great if they could come legally, if they could claim asylum at their embassies, as it should be, and if these requests were looked into with benevolence.
Aude: The Feminist Asylum petition puts that as a top priority, because the governments of different countries must take into consideration the reason for the asylum claim and all the violence that comes with it, all that has been building up as they migrate, but also the reasons why women particularly leave.
Behind the slogan "a world without borders," what are the political proposals to promote change? How can we reach the world we want?
Aude: It refers more broadly to the world we live in, which is capitalist, which aims at profit above all, which is not interested at all in opening borders. Also, it is the case of capital, of goods, and other objects, and border movements that are never harmed, but conversely are favored. We can clearly see that it is not a matter of a problem, but actually who benefits from it and what is the benefit, who runs it and who chooses how that happens. If we consider the current situation, without dreaming that a revolution will happen in the next few days, what can we do first?
At the level of Switzerland, it is pretty obvious: all these asylum-related policies are so complex, with so many forms and so many people involved that we must pay and employ them on different levels. There are also many people who are pro-asylum, many associations that need funding for their projects and lawyers. There are really many resources that are being used around this asylum policy and, on the other hand, I think that even before the crisis linked with the war in Ukraine—which is peculiar—, we had maybe 20,000 to 25,000 asylum claims a year, with fluctuations.
Systematically issuing licenses that allow them to work and have rights is really much cheaper for Switzerland and it would be a simple way to make sure everyone enjoys their rights, in a very simple way. This would be quicker and require less effort than what is done today. It would be a way to prevent this kind of precarious conditions I mentioned earlier and prevent people from being controlled and have limited rights. It is a political game that, in my opinion, we must change fast.
The Schengen Agreement comprises 26 European countries that make border controls flexible for international travel, with a common visa policy. [↩]