The World March of Women (WMW) and 250 feminist and human rights organizations are campaigning for women and LGBTQIA+ people who are seeking to migrate to the European Union. The movements involved in the campaign introduced their demands in a petition that can be signed until May. On May 11th, 2022, the anniversary of the Istanbul Convention signed in 2011, the petition will be submitted to European institutions.
The campaign started as a meeting organized by the WMW in Geneva, Switzerland, in September 2019. It was an European international meeting called "Women, Migration, Refuge," bringing together more than 350 people. After three days of workshops reflecting on migration-related topics, an European network of resistance was established with the launch of a platform.
There has been a huge migration and refugee crisis since 2015 due to conflicts in the Middle East as well as the horrific consequences of neoliberal globalization, which has hit the peoples of the global South especially hard. Conditions are so precarious and inequalities grow so grave that they have destroyed traditional societies where the peoples lived—and all that has much more serious impacts on women.
The Origins
The meeting that originated the campaign was also the starting point of the organization of a number of actions, demonstrations, and public activities. However, due to the Covid-19 pandemic, the women had to find new ways to keep the conversation going. The WMW Switzerland published the book Behind Walls: Stories of Women Migrants in Times of Covid-19, about women migrants and the pandemic, as a closing activity for the 5th International Action of the World March of Women, which took place in 2020. The book aimed to expand the conversation, help bring it to the international stage, and record the reflections of women migrants during the pandemic.
In June 2021, women from all over Europe held a huge demonstration in Nice, France, joined by people who struggle against the gender-based violence that targets immigrants and refugees. This event, called "Toutes aux frontières" [Everyone To the Borders], was a way to denounce Europe's borders and the issues resulting from them, especially for women. This demonstration by women was an inspiration to make an international campaign real just a few months later.
About the Petition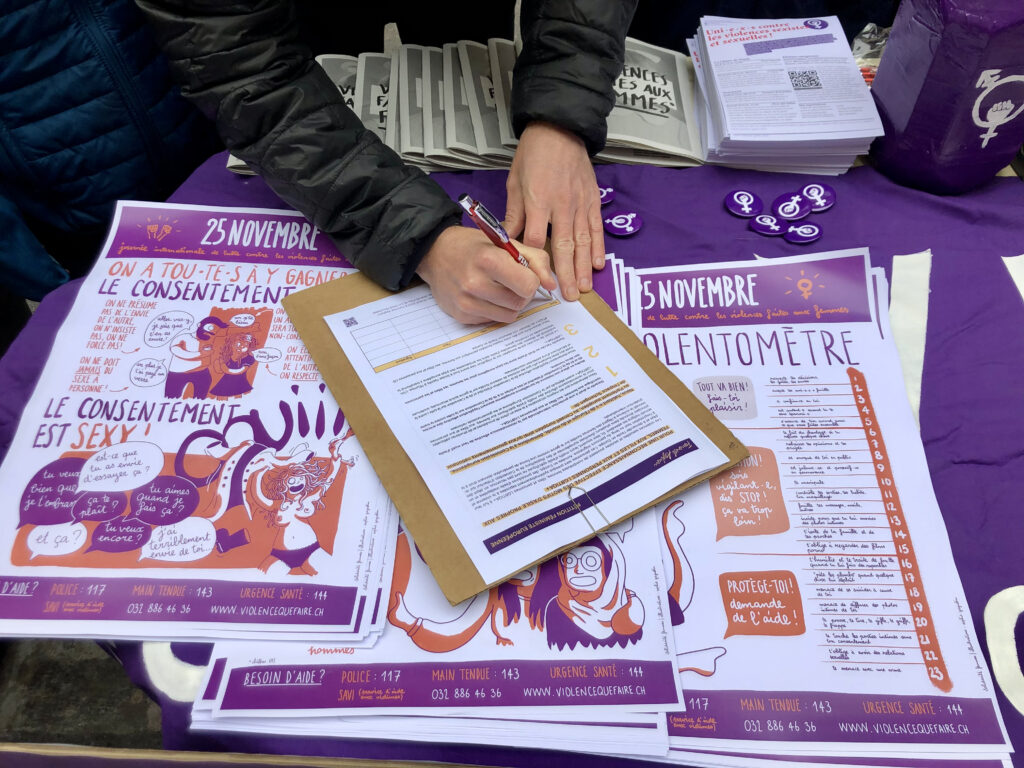 The petition is a work instrument to present the relevant demands to neutralize the language of the far right, which targets refugees as a threat to Western culture, as an international danger. Leana Ebel, a member of the World March of Women Switzerland since its early days in 2000, said this has been "a long process of creating a petition that is in the intersection between racism and sexism." This campaign was organized from Europe because repression against migrants in this region of the world is due to European policies such as the Schengen Agreement, which opened borders and allowed free movement, but excludes people who seek refuge and asylum in the European signatory countries. "Also in the Istanbul Convention, there are not only the countries that ratified it, but also the European Parliament. So it makes sense to address the Parliament as a whole," Leana argues.
One of the main issues the campaign denounces is the international agreements on the rights of migrants, which exist on paper, but are not enforced. The goal is to bring the conversation back to the agenda, to force governments to implement what they have signed. As Leana told us, "in every country and at the international level, having a law does not mean it's enforced. There are many conventions included in Constitutions, but which are never enforced if there is no social pressure, demonstrations on the streets, and people denouncing it."
Sonia Mitralias, who is part of the campaign organization, argues that the struggle to have agreements complied with and rights guaranteed should be a continuous struggle. She says, "we must struggle to maintain this right, because right now we are facing a horrific attack from far-right forces across Europe. This is what we're facing, especially regarding the access to asylum by women who are experiencing violence against their gender, which forces them to flee their home country. These are people who want to come to Europe, but they are not well-received."
Challenging Violence and the Far Right
Sonia denounces especially the asylum policies of her country, Greece, which is bordered by Turkey and, therefore, also by Asia and Africa in a sense. "On the one hand, European authorities talk about the values of the European Community, human values that secure rights. At the same time, six years ago there was a change in EU policy to stop allowing migrants to come to Europe. Not only that, non-governmental organizations and those in solidarity cannot help them. They are also criminalized."
In addition to making sure that women who are already refugees in Europe can access their rights, the campaign proposes improvements in the conditions and processes for those who are still trying to get to the region. The big issue today for new immigrants who come to Europe fleeing gender-based violence is that they don't have access to the center that can identify asylum-seeking cases. These women have to go through processes that are hardly ever able to prove that they have been victims of violence. Once they finally arrive in Europe, they face other issues, such as getting documents—a process that can take years.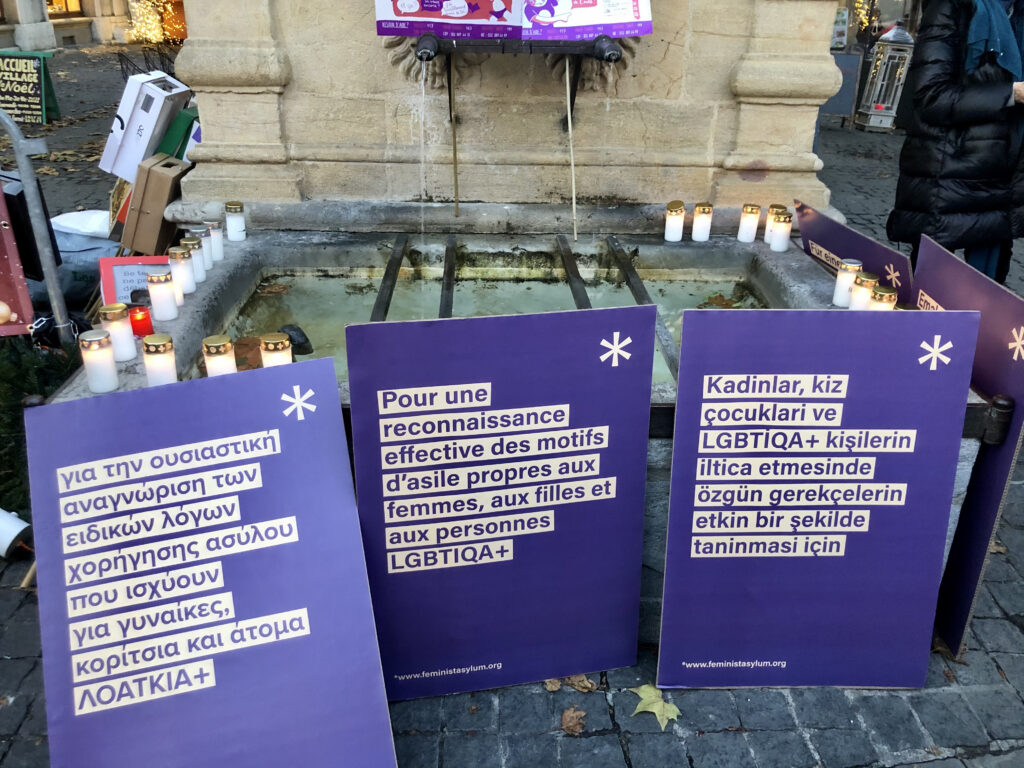 Hostility in the European continent against migrant people leads to different kinds of violence—state, racist, and patriarchal violence that often goes unnoticed. Migrant women who take part in and build the campaign shared their own experiences and those of other fellow migrants. They tell the stories of these women who have come to Europe and faced troubles addressed by the petition.
Leana told us that "it is very complex, because women are often still in precarious situations, and because it's hard to talk about the violence they have endured. It's also a challenge, because more often than not there is a language barrier." Sharing these experiences has been crucial to build the feminist movement in Europe and to further elaborate on a feminist critique on borders, militarization, and the capitalist and racist model. In addition to promoting the campaign, this work also includes creating trust spaces for migrant women on the local level.
Why a Petition?
In Switzerland, where the campaign was born, petitions are very common. Leana told us that "women are used to taking initiative, holding referendums, and collecting signatures to make the problems they encounter visible. It's a very effective tool." Getting a large number of signatures is a very important task, because it exposes how urgent this matter is to society. But more than numbers, women argue that the most important thing is to make the feminist agenda for migrant rights known.
This is why the strategy of collecting signatures is combined with the organization of struggles beyond social media, holding demonstrations on the streets, promoting the topic and talking to the population. Sonia admits she is not sure whether the campaign will reach all of its goals, "but, in any case, it's really an effort to build an international struggle. It's about a long-term campaign and, above all, to consolidate new relationships between us."
Last March 8th, a call was launched for civil society personalities to sign the petition, a strategy to expand its reach. "We didn't call the elite. Our call targeted people who work in the arts, politics or sports, and who are human rights activists," she explains. This was also an opportunity to bring closer people who relate to the cause. "We've had around one hundred personalities sign this appeal to support our petition. We've garnered small victories. The contact with personalities was a physical, personal, deeper, more sentimental relationship. Once again we started to create human bonds and rebuild solidarity," Sonia told us.
Next Steps
The campaign is organized in regular virtual meetings between militants of the active countries. Moreover, there are local organizing efforts to support the campaign. The next dates for international mobilization on the streets are April 24th, Day of International Solidarity and Struggle Against Transnational Corporations—a date of action for the World March of Women—, and May 11th, when women will file the petition in Brussels. Sonia argues that, through concrete actions, the campaign aims to strengthen "a big international movement with demands as well as proposals for a global alternative."