The National Union of Sahrawi Woman [Unión Nacional de Mujeres Saharauis – UNMS] includes women from the Refugee Camps (located in west Algeria), the original Sahrawi land occupied by Moroccan military, and among the diaspora. The reason why the Sahrawi women is found in all these different locations is because of the Moroccan Occupation of our territory.
Many of Sahrawi people from the now occupied territory left in 1975 because of the progressive Moroccan invasion. The Moroccan military invaded to enslave the Sahrawi people. At the time, we were unstable because of our limited military capacities, which has left us feeling insecure. Many people left the occupied area, but with the hope that they would return quickly. That didn't happen, and we now have spent this whole time here at the refugee camps.
It's vital to create an atmosphere for Sahrawi women, so they do not suffer from the extended time spent here, feeling like there is nothing they can do for their people. On this basis, we need to ensure a political organization for women to keep up with their life conditions. This political and social work done by the UNMS started just one year after the Moroccan occupation, and continued here in the Refugee Camps, which was built from scratch by women in 1975.
At the UNMS we try to pursue an awareness of our political context and to ensure women participation in politics. We try to prevent social issues specific to women because there isn't a society that doesn't have problems. We guarantee that women will be in positions of decision making. At the same time, we also encourage women to become self-sufficient, through their own start up projects, or cooperative projects.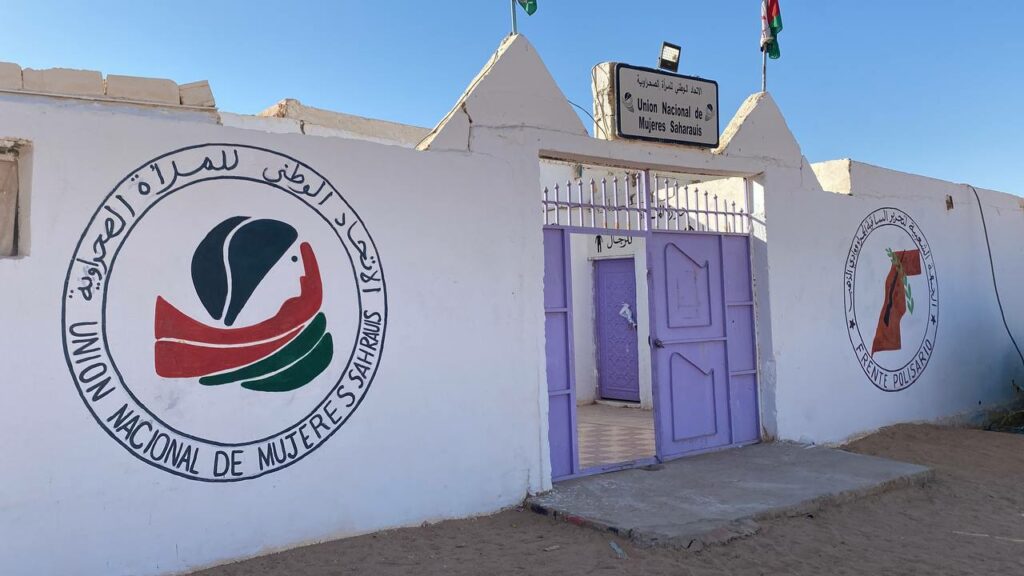 Women at the forefront of politics
We talk about politics in two ways: domestic and internationally. At the domestic level we say that the Sahrawi Arab Democratic Republic are a developing country. Based on this, we need an awareness for women in politics. How do we create this awareness atmosphere? We spread a political awareness and, at the same time, we are practicing it. This is the developing that we are in right now: organizing women to be in the General Cabinet of the Political Front. And we also have women in the parliament, women representatives for the countries that recognize us, and women ambassador. At the international level, we help woman to send their message in more settings to share about the Sahrawi cause. They participate in international congresses, conferences, and we help them to become members in these international organizations and associations.
We have the hope, we have the will and one day we will achieve it. All the political work and organization we are doing on Algerian land and in the refugee camps, we will apply it even better in our land.
A peaceful struggle
The Sahrawi people have a peaceful nature. We think that any new course of action should be done peacefully. Through our work we spread peace and we struggle for peace and sovereignty here in the refugee camps. Also in the occupied territory, all of the Sahrawi women protests are peaceful. In there, women struggle for their right to be recognized as a Sahrawi women, to express their culture and roots.
The response is violent: only for saying"I'm a Sahrawi women", they are beaten, tortured and raped. Men from the Moroccan military drag them by their hair and imprison them. This is a type of oppression that they do to a peaceful Sahrawi woman.
People don't know that, because there is a huge media blockade that doesn't allow anyone to report all of these violence. No journalist are allowed to enter the territory, and the locals have huge difficulty in communicating with anyone from outside.
They want to politically force us to do something unwanted: to let a Moroccan autonomous State be implemented in the territory. We call it law violations, made to torture the Sahrawi people and to rob our resources. It is a hiding of the truth.
The last solution that we have is to resort to war. Originally there was war, but it stopped under the conditions brought by the MINURSO (The United Nations Mission for the Referendum in Western Sahara), but Morocco has not honored those. Morocco didn't adhere the conditions they were supposed to, and that's why we are at war again.
As Sahrawi people, we are represented by the Political Front of the Sahrawi Arab Democratic Republic (the Polisario Front). When they say that we are returning to war, we support them, because this is originally a legitimate right. Even though Sahrawi women don't support war, we do support any movement in any form to find us a solution. This is the way that we are finding to bring us a solution, and we are going with it.
We want the right to self-determination, to decide for ourselves. We want international legitimacy from the General Assembly of the United Nations, and its envoy to recognize that we are a people that has the right to our sovereignty. But taking only that institutional path did not lead us to our rights. We have been living here as refugees for more than 45 years, and the Security Council has not found us a solution. This shadow is the result of the strength of the oppression in the occupied territory.

El-Ejla Chejh Alla (Ayla Chejh) is a Sahrawi women born in the Refugee camps in Algeria. She is a member and a worker at the Sahrawi Women's National Union [Unión Nacional de Mujeres Saharauis – UNMS] in their executive office, and the head of the media department of the organization.