Every year, on International Day for the Elimination of Violence Against Women, November 25th, we, La Via Campesina, call for symbolic actions of awareness raising, publicity, and solidarity. From La Via Campesina, we denounce the alarming forms of violence experienced by women, children, and diverse bodies across the world. We are always alert to gender-based discrimination, but it is true that, amid this pandemic, we have acutely realized how different forms of violence impact more than half the world population. They cannot, therefore, be ignored.
The Violence of Hunger, the Violence of Capital
We experience several structural social, economic, climate, and food crises. We are facing a growing feminization of hunger. We demand fundamental and basic human rights to everyone. The right to food is what will guide our actions and processes. These are pressing processes, especially decision-making processes on public policies toward food sovereignty based on agroecological production projects, in which women make up the majority of participants.
In July 2021, Oxfam published a report comparing how many people had died from hunger and how many had died from Covid-19 at the peak of the pandemic. Nearly 11 people were dying from hunger a minute and roughly 7 people a minute at the peak of the Covid-19 pandemic. This health crisis we are experiencing has aggravated the hunger crisis we were already struggling with.
And who is bearing the brunt of care work, caring for our elderly, our children, and people who depend on us in general? Due to the pandemic, schools and elderly care centers where they could spend the day and receive care were closed. This work has been largely taken on by women, without pay.
Women's rights are included in the "United Nations Declaration on the Rights of Peasants and Other People Working in Rural Areas." This document was approved in 2018, and we must insist on having it implemented—especially to make these rights visible, specifically the fact that they have been internationally recognized.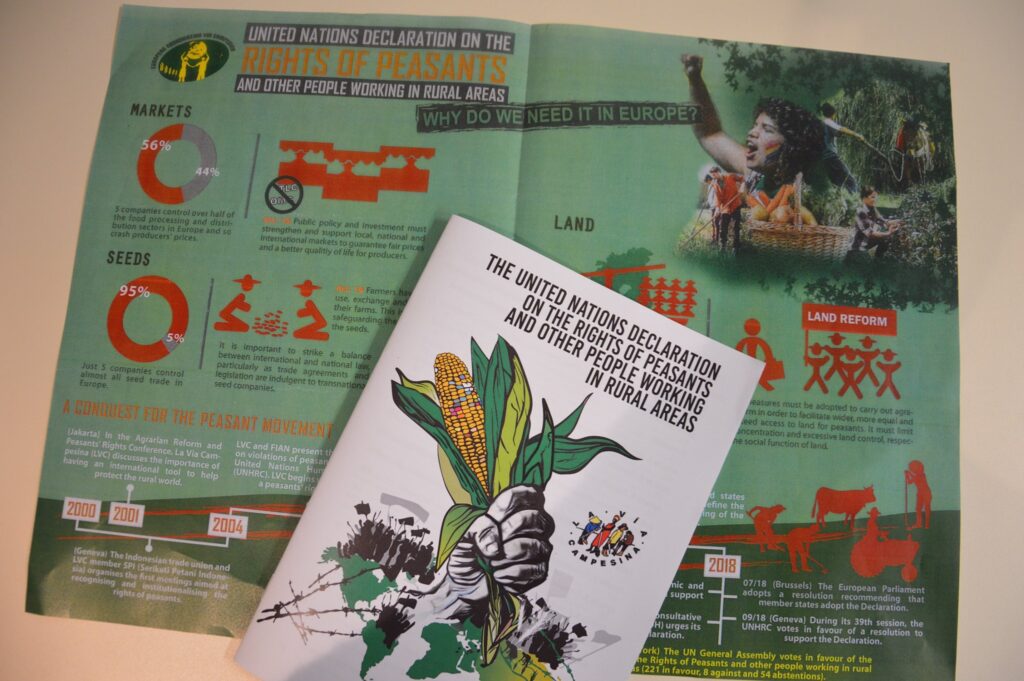 An Offensive Attacking Women's Bodies and Territories
The truth is that there are many setbacks, both against women and diversities. In Brazil, Colombia, Honduras, Palestine, the Philippines, Guatemala, Costa Rica, Kurdistan, and Mexico, these alerts have been heightened. In 2017, there were 87,000 reported femicide cases, according to official data. This means 137 women have died every day. In Latin America, a woman is killed every two hours—every two hours, I repeat, because this is very serious—just for being a woman. We must make our rights known and struggle for them, so that we can also fight hunger together.
In Europe, we have another serious issue: land. Big investment and multinational funds are taking land—agricultural, productive land where we grow food—, at first to establish big mining projects. Lately, with this new European "trend" where they pretend to be green and renewable energy producers, they are taking our land that was supposed to be dedicated to small family farms, but planning to establish wind megaparks and solar megaplants.
False Solutions
Looking at it from the outside, we could say, "Well, maybe it's a different way to produce green energy," but that is not what this is. This is not reality. These are big investment funds that come along and establish these megaprojects. The reality is not that they are providing "green energy" to villages and towns. What they are doing is transmitting that allegedly green, renewable energy from our territories to big cities—for example, from Galicia to Madrid. More than half the energy produced is lost on the way as it is transmitted to big cities.
They are fooling us and selling policies that are not really beneficial to the peasant people. As La Via Campesina, we believe that protecting the populations that grow food, women, children, and especially diverse bodies, is an urgent matter. Protect our customs, our traditions, our knowledge, our territories, and the access to the most common goods, such as water and land.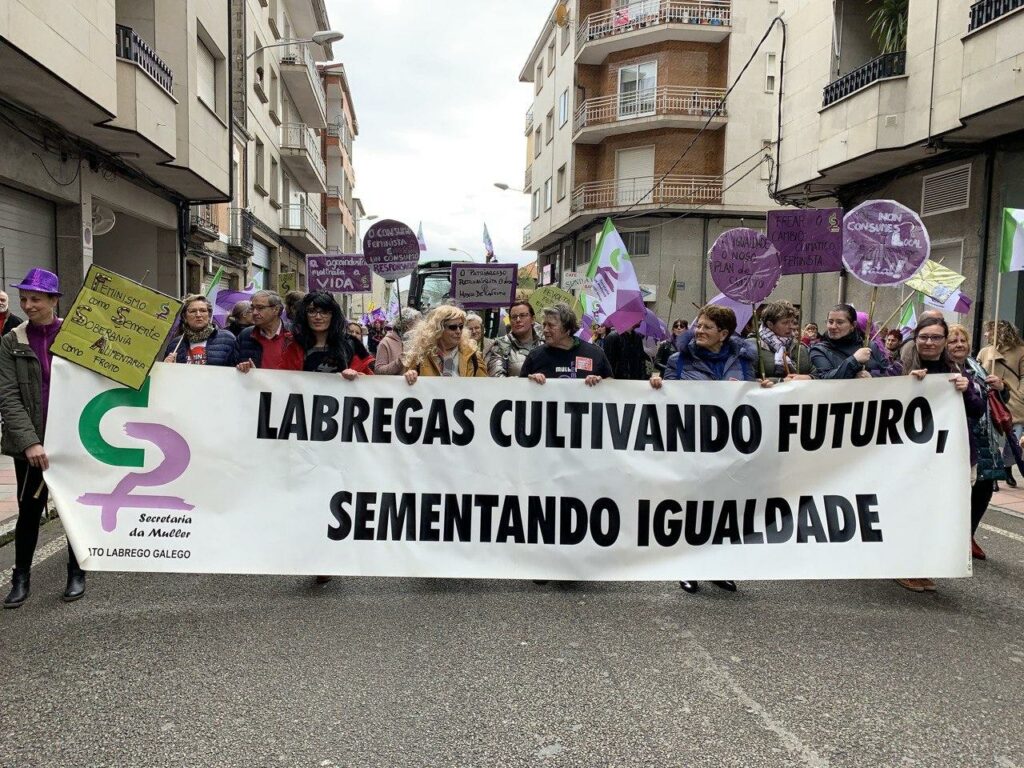 To end violence and inequality, we must change the capitalist system. We must propose diverse food systems based on food sovereignty and agroecology. After all, our demand is not exactly about having a large amount of food, but having quality food available within convenient traveling distance so that we can fight hunger.
On November 25th, our motto at La Via Campesina was "Peasant Women Fighting for their Rights and against Hunger and Violence!" We launched English, French, and Spanish versions of the graphic book The Path of Peasant and Popular Feminism in La Via Campesina, to support peasant women's political education processes, mobilization, and organization.
We want to suggest how to struggle together and strengthen alliances, which is very important. We want all of us together and united to struggle against capitalism, which is grabbing our lives everywhere.
___
Sonia Vidal Lamas is a cattle farmer who lives in Galicia and a member of the Executive Board of the Galician Peasant Union (SindicatoLabrego Galego) and the European Coordination Via Campesina. This article is an edited version of her speech at the "Anti-systemic Struggles to Live Free of Violence" webinar, organized by Capire in collaboration with the World March of Women, La Via Campesina, and the World Rainforest Movement on November 18th, 2021.