Lia Ukleba is a feminist artist from Georgia. Born in 1974, she has a degree in pedagogy and started to paint in 2011 as a way to express the feelings and experiences of women living in patriarchal societies. In the following year, her work "Virgin Mary With a Toy Pistol" sparked huge backlash in her country, leading to persecution and threats in her hometown, Kutaisi. In 2015, Lia Ukleba received the Kato Mikeladze Award, granted to people who fight for women's rights in Georgia.
In an interview to Capire, Lia spoke about her creative process and inspirations, based on her own experience and the stories of women who face oppression. "From the beginning, I was leading my thoughts, brush or hand to topics such as the patriarchal society, the repressed state of women, and women's feelings in general. I wanted to express what a woman feels internally in her body."
The interview was conducted by Mariami Gaprindashvili, a member of the International Secretariat of the World March of Women. Read the interview and check out some of her works below.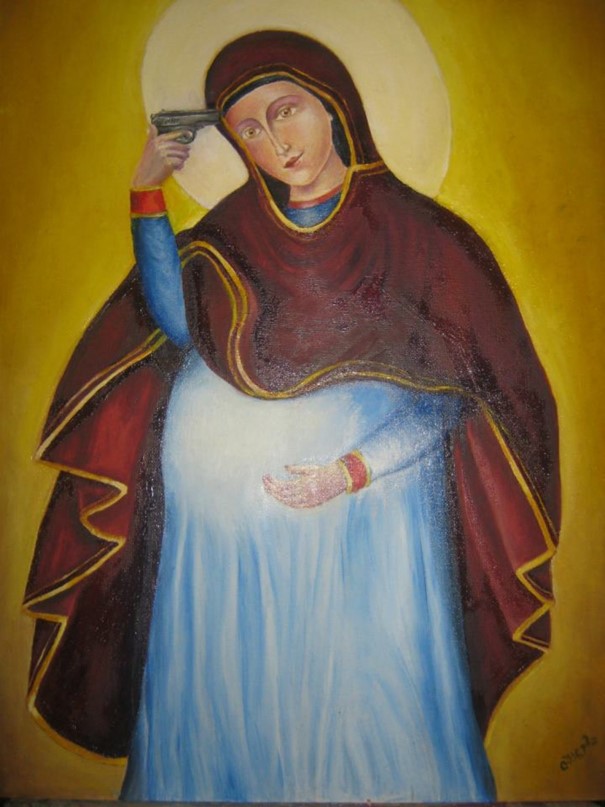 When you painted "Virgin Mary With a Toy Pistol", weren't you afraid of the religious pressure in the society?
A person is more courageous in ignorance. Today, of course, I am ready to do such interventional things, but when I painted Virgin Mary I did not know that such a resonance would follow and it happened to me naively. Although I was ready that it would annoy some people, I did not expect such a scale. A discussion field was created and people started talking quite heatedly and for quite a long time around these topics. "Virgin Mary" is a feminist work, it is about a woman who wants to make her voice heard by people. For this, she takes a radical measure, otherwise she can't convince, she can't convey her voice to others.
Why is Virgin Mary pregnant and not holding Jesus?
Here was a different kind of idea, I wanted to focus on the unborn God, whether he will be born or not. Or is it worth being born?
What can you tell us about the work of Jesus with the child in his arms?
The inspiration for this work came from an interview with a transgender woman who wanted to become a mother and talked about this desire, the pressure from society and the problems she faced along the way. I decided to paint a transgender woman with a child in her arms, and while working with her I thought that a person who wants to be a mother is sacred to me. She wants to give birth to new life, grow and somehow give her love to others, absolutely selflessly. She wants to become a mother with all her heart and soul. It was such a moving, sensitive story that I decided to keep it sacred. She would have crowned. Every person has the right to be who he or she wants to be and have a child if he or she wants to. No one has the right to touch this sanctity. Accordingly, this is how a transgender woman came out with a baby in her arms and became like Jesus.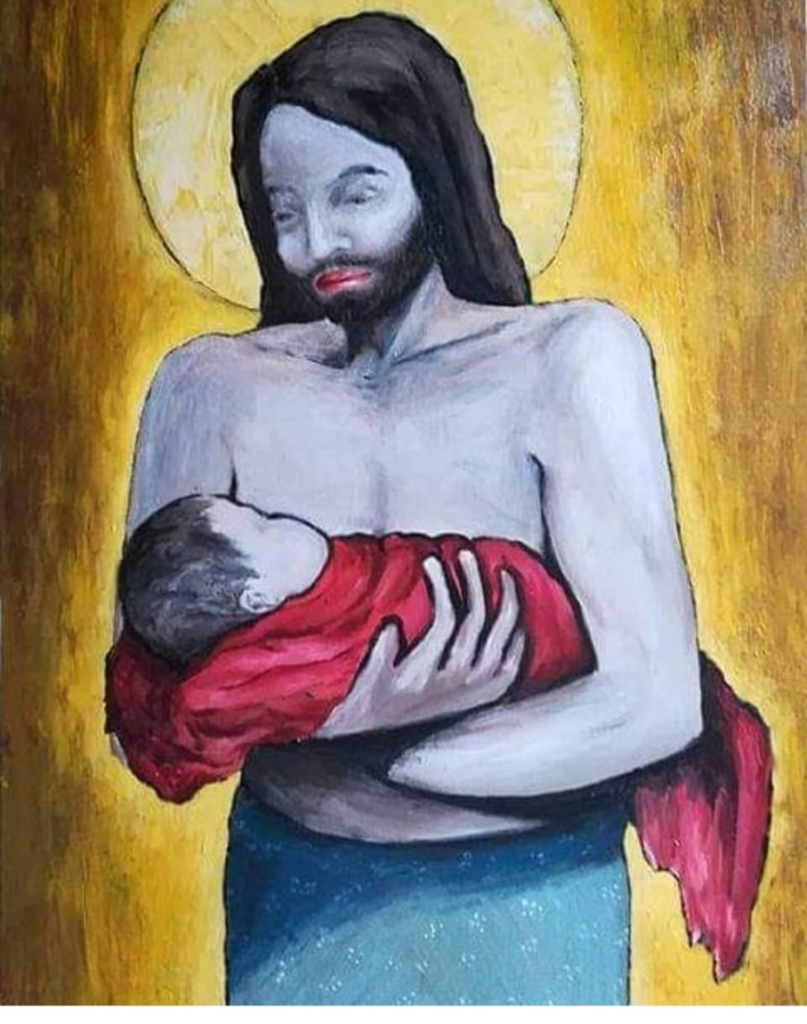 In your works there is a division into periods, an iconographic part, a series of fruits, which reminded me the works of Georgia O'Keeffe, an American artist whose paintings evoke vaginal interpretations. I was affected by the banana painting, because there is a feeling of carving, finishing, cutting something…
This is the story of the boards. This also comes from my personal history. I had to get married at a very young age. This was also due to harmful traditions and I was forced by the culture to do things that I neither knew nor liked to do. At 16, I didn't need to knead the dough and my family forced me to. This caused a lot of protest from my side. I was attracted by this story and decided like a child that I will not learn to cook because I was forced to do it. I'm not really a very good cook, but it's still a complex thing for me. To this day it remains a stress. I'm afraid of the kitchen. Although I gave birth to two children, raised them, cooked for them, and I am still in the kitchen, this kitchen board is an object of daily use, as well as it is for every woman. I moved this kitchen board to the workshop, that is, I found a function for this board that I wanted and was interested in. I decided to draw women's news on it and tell it to me.
I tried to make what was hateful, uncomfortable and stressful for me into a desirable and happy story and it worked out great.
It was a story of self-salvation actually, and it will make others happy too. I decided to sell at very cheap prices, so that this story is accessible to everyone and everyone has this code that I put in this drawing.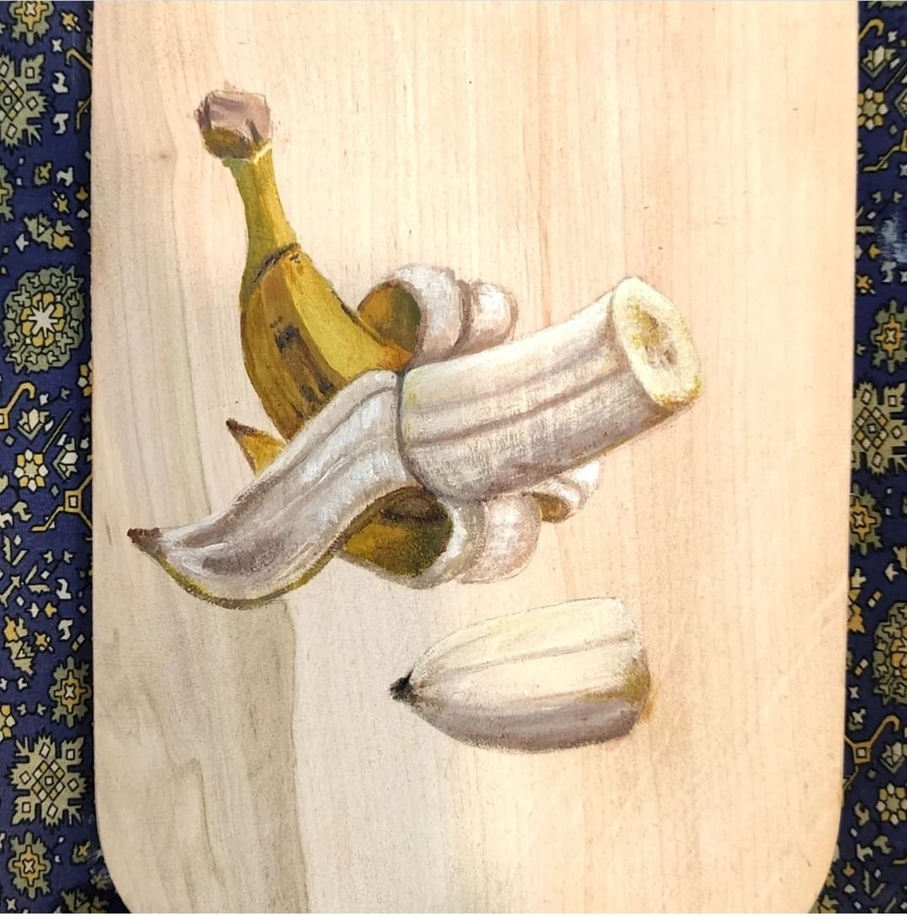 Early marriage, leave it in the past, today you are already a different woman, an independent and successful artist, but still those women who live similar lives to your past will not be forgotten.
It is impossible for me to forget them. What is happening today, I experienced on my own back, especially femicide is a painful topic for me. So I think I die with all the women who are killed. The last work related to femicide is "Beautiful Pieces of Fabric". During the whole process of painting, I had this sentence exhausted, I should sew such dresses, I didn't know what to call them.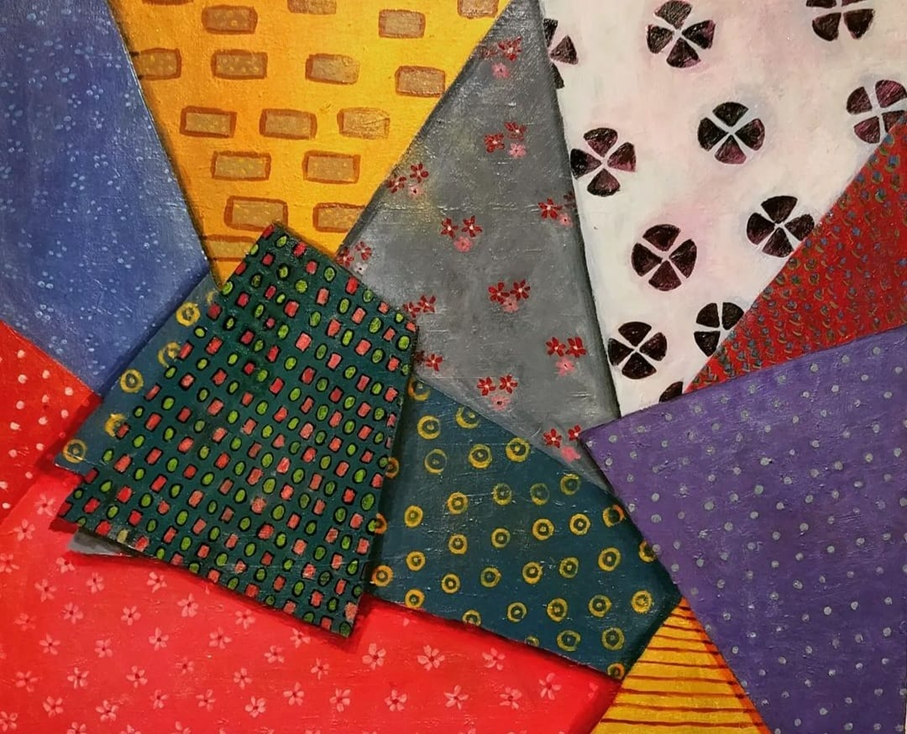 How did you not feel the desire to get away even from the surroundings of this small city of Kutaisi? I wonder how you are coping in the environment where you live now and why you haven't even decided to go abroad.
In 2015, my works were exhibited at Ilia University, and news broke. In the Patriarch's epistle, they declared me the biggest insulter. Then started threatening and persecuting me from society. NGO's told me "pack your luggage now and leave". I don't know why I refused. Perhaps because I somehow believe that fanatics do not exist in this country. Everything is fragile and illusory, breakable. If there were fanatics in this country, I would not be alive today. But I know that this fragility is attached by one small thread, it can be easily broken. I didn't have the feeling that someone would hurt me. It wasn't easy to pack a luggage and run. Somehow I perceived it as an escape, and I was not ready for one, and then I didn't want to escape the other.
They give sacred meaning to things that are not sacred. I believe that people should not live by prepared patterns and should ask questions. We should look for answers to the question "why?". This is a simple but most important question. Accordingly, the question "why?" has been in my mind since childhood – or another such question, "why not?".
Society is not ready to move away from stereotypes. I try my little explosions to make it all a talking point. When a discussion starts, it means that something has been broken. There are two sides that oppose each other through dialogue, and in this dialogue we can even come to something common. If my works manage to do that, my goal has been achieved.
Your works contain discussion topics, I get the impression that they are accompanied by sound, they are shouting and talking. Everyone will feel it when they see them, but still people have a fear of novelty…
Newness is always painful, leaving a warm room always means cold. This cold is less pleasant when you are comfortable, it is painful to go outside. But that exit can lead to a more interesting story. Sometimes we need a push out of that comfort zone. I try to break the comfort zone, make the viewer uncomfortable.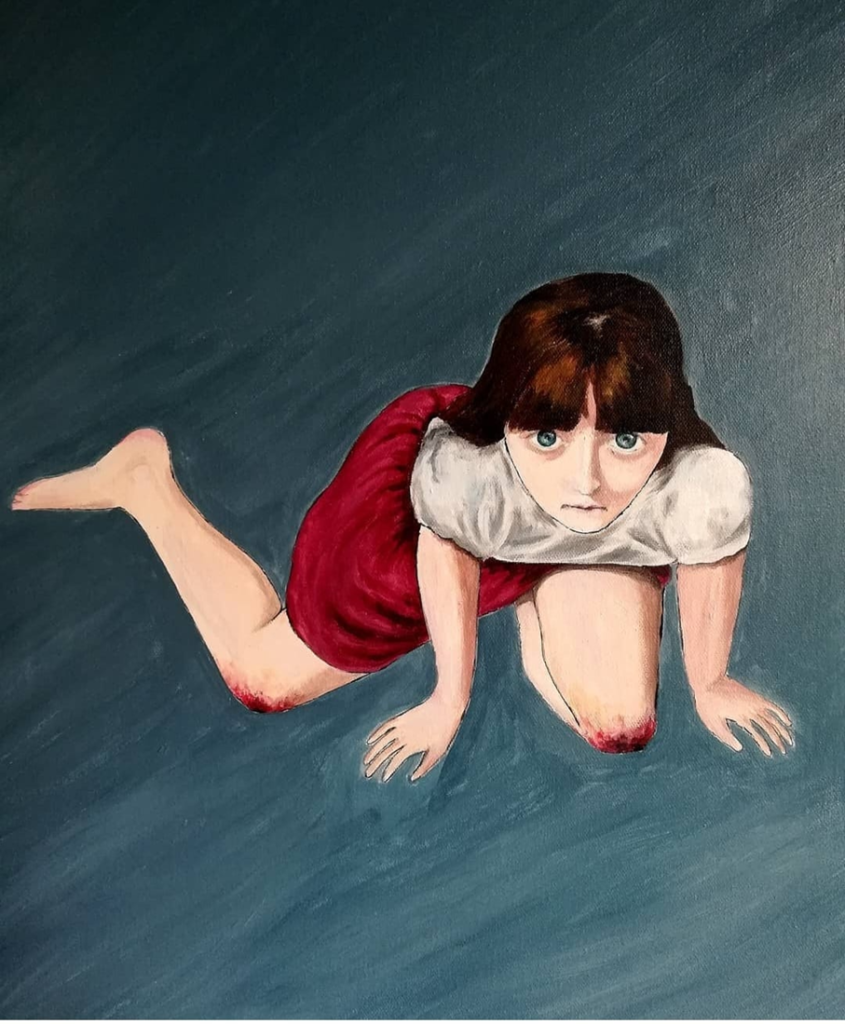 As a feminist artist, what will be your verbal appeal to the women of the world?
The fight for my freedom, for myself, is a fight for all women. I always tell little girls that we should start the morning with a fight and we should end the night like that. And so every day. Otherwise, it is simply impossible to live in our society. Hopefully the time will come when we women will be free, but today we have no right to relax. The patriarchal pressure and masculine charge are so strong that you will be crushed and trampled for a second. That's why we have to fight every minute.
Not every woman has the power, nor the economic freedom, nor the opportunity to become free. Women of my generation "died". Most of them became victims of violent marriages and could not get out of it. They rejected their own talent and happiness and got stuck in the rut in which the society lives, they accepted this situation.
I constantly tell girls in schools to first gain economic freedom, independence. After that, let them fight for their rights. There are women who are economically independent, but internally they cannot free themselves from patriarchal pressure, nor can they teach their children how to be free. Such women are the first-borns of a patriarchal environment. I have had contact with them and they say that "I am not oppressed by anyone, I am free", but I think that their mind is not free. If we look at the dynamics, although we are slowly but still moving forward, we are growing. Our future modern generations are much more progressive, they think sanely, they are moving towards democratic principles.