Rafaela Pimentel Lara was born in the Dominican Republic and first arrived in Madrid, Spain, in 1995. From Santo Domingo, where she conducted community work and feminist activist work, she first migrated to the United States, where her family was living. She later went to Madrid to get her son, who was living with her ex-partner. As soon as she arrived in Spain, because of the country's migration legislation requirements, she immediately started to work as a domestic work and soon started to organize with a women's collective in the neighborhood where she lived.
Rafaela granted an interview to Capire, in which she addressed the situation of domestic workers in Spain and shared women's creative grassroots feminist organizing strategies in the Domestic Territory [Territorio Doméstico] collective, which has been active since 2006. Looking into recent struggles and achievements, such as the ratification of Convention No. 189 of the International Labor Organization (ILO), she underscores that domestic workers struggle not only for rights, but for structural change in society. On this journey, domestic workers build alliances and share agendas around care as part of the country's feminist movement, aiming to have this work acknowledged, appreciated, and reorganized.
*
Who are the domestic workers in the Spanish state? And what is their situation in the country?
We are mostly domestic workers from different Latin American and Caribbean countries, but also from Spain. We are under a special regime—we struggle to work, with no rights. The little we got, we got in 2011. It is a difficult, completely abusive situation. In the Spanish state, most of us, domestic workers, are supporting the care system virtually at the expense of our own lives. Many of us work with no contract, no social security contributions, no occupational accident insurance. Many women over the ages of 60 or 70 are working with no rights.
Live-in domestic workers are the ones suffering the most. They work with no rest, 24/7; they are not paid, they are not entitled to the rights they should be. Many employers lean on to the fact that many live-in workers are undocumented. Many workers, when they first come here, don't know the rights we have. They are not aware. And while many do know about these rights, there are employers who do not comply with them and take advantage of the fact that this is the only job many of us are able to get, because there is a migration law that curtails us. In Spain, you have to wait three years to be entitled to legal documents. People take advantage of our vulnerability. We have to do this job because many of us have to provide for our families, both in the Spanish state and abroad, where we came from.
There are more than 700,000 domestic workers in Spain—415,000 of them are registered with the social security system, and they are the ones who are documented. There are also those who are documented, but are not registered with social security. These are the official numbers that we know, because they are public. We also know that there are more than 200,000 undocumented domestic workers, who are working but are not included in these numbers.
We say that the situation of domestic workers in Spain, specifically of live-in workers, is borderline slavery in the 21st century. But for many years we have been organized and joining efforts with more than 50 collectives. This is another thing about the situation of domestic workers that we like to point out, because we believe that the power of organized domestic workers here in Spain and in other countries is fundamental.
We would like to hear about your strategies with Domestic Territory to organize domestic workers. What are the principles and practices of the organization? And what are its challenges?
It has a participatory methodology, holding assemblies, where everyone shares their own knowledge. We share among all of us, respecting the paces of each one in order to organize. We have build some tools that we use strategically. First, we start with theater. It was really difficult to talk about the situation that we were experiencing and about our work. The best way we realized we could do that was through acting. We would do some scenes where we would tell the story to a friend—which was really our story, but we would tell it in third-person point of view. We were able to draw a lot of what we were experiencing from that. We started to talk and put our bodies out there through theater.
Another tool is music. We have written songs and created new versions of others, adapting the lyrics of traditional songs with our own lyrics. In 2018, we produced the Domestic Territory album. We produced ten songs with a choir that supported us, and we—a total of nine domestic workers—used our voices to sing those songs. This album helps us to attend meetings, to invigorate us, they help us participate, dance, celebrate. We use songs that talk about borders, feminism, or care when we hold workshops about these topics.
Another tool that we have built is called "the runway." It is a runway like the ones fashion models walk on. We show the lives of domestic workers, of women. We build characters and then parade them down the street. It is a tool that can be used both on the streets and internally. We dress up, put on wigs and glasses, wear costumes. We also did it to cover ourselves and protect ourselves from police harassment and police raids that usually happened especially against everyone who was undocumented in the Spanish state. The runway was one of the alternatives that allowed many domestic workers to express themselves on the streets, because we would put on costumes and no one would know who we were. This tool had two purposes—to expose the situation of domestic workers, care workers, and really us women; and also to allow many sisters to go out on the streets without being recognized at their jobs and therefore allay some of their fears.
We produced a radionovela [radio drama] with eight chapters in which we talk about the situation of migrants when we cross the border. It is called They Wanted Arms and We Came as People [Querían brazos y llegamos personas]. Many sisters took part in it, including new sisters who had just joined the collective. This tool also allowed them to overcome their fear of taking part in assemblies and talking about their situation.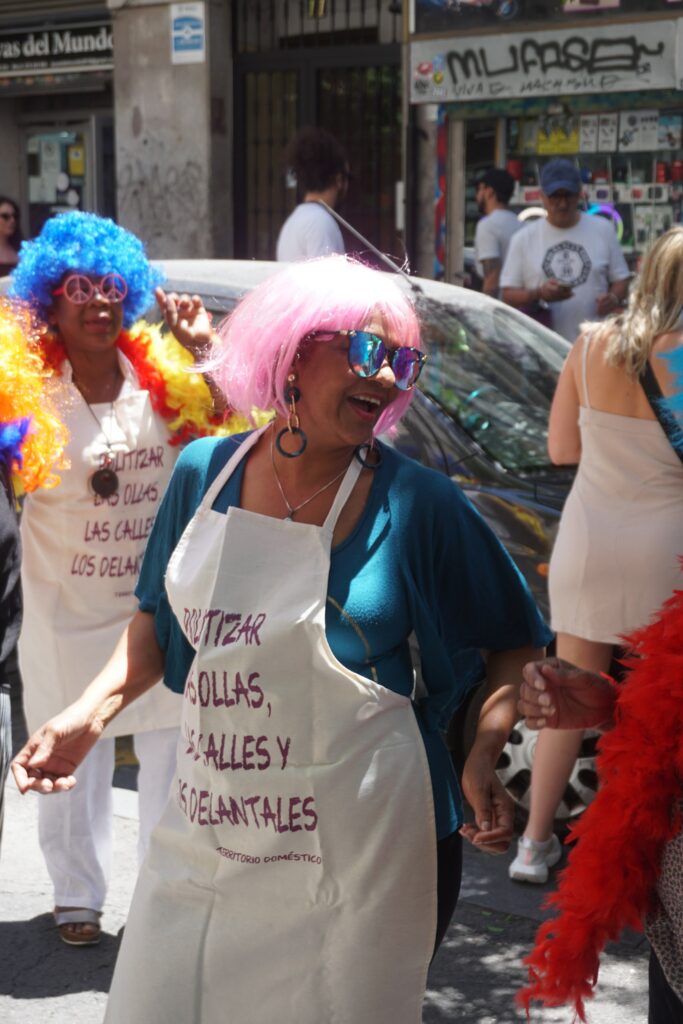 In several countries, a common struggle waged by domestic workers is to have labor laws that effectively ensure them rights. How are the perspectives in this sense in the Spanish state, which has just ratified the ILO Convention No. 189?
The Spanish government had to ratify the ILO Convention No. 189 because other countries had already ratified it. In 2013, during a conference in Italy, we realized that the Spanish state was not going to ratify it, so we started to wage a more active struggle for its ratification.
Last year, all domestic workers' collectives came together, along with the feminist movement. We started to hold feminist assemblies for Convention No. 189, and it was a titanic struggle—it was very effective, because we won. On June 9th [this year], the ILO Convention No. 189 was ratified unanimously by the Spanish state. We say that we have won, but we continue to struggle, because there are things missing from this convention that have to be included for its implementation.
This is why, from the first moment after June 9th, we started to demand a royal decree[1] for domestic workers setting the rights we must have, like all other workers. We started to request meetings with the appropriate ministries to make sure that, before the end of this political term in Spain, this royal decree will be issued. We submitted eleven proposals. We know that not all proposals will get there, but if we, as domestic workers, are able to get the main proposals out there, our situation would greatly improve. And we are very clear about this: we were able to get these eleven proposals out and we will keep moving forward, as we did in 2011, when we had four achievements and have continued with our struggle.
Today, we, domestic workers, are organized in such a way that this has been one of the most powerful struggles waged in Spain. Right now, we are a point of reference for struggles that are happening in Europe.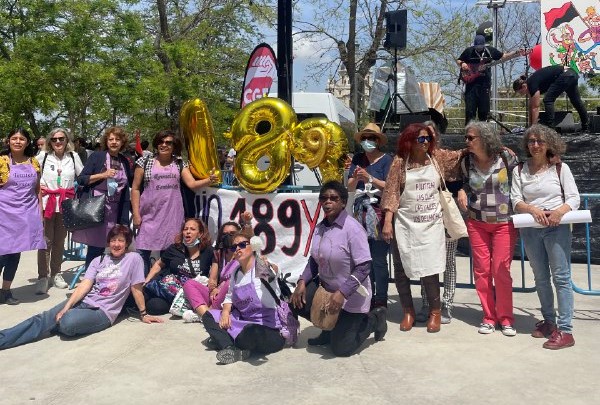 How is the relationship and engagement of domestic workers' organizations with the feminist movement in the country?
We believe that, while we may spare no efforts, we, domestic workers, cannot wage this struggle on our own. Also, we don't need to do it on our own, because this struggle has to do with all women, all people. This is why we are committed to alliances, which have been fundamental. Since the beginning, we have met with Spanish women, with women who are not domestic workers, with their mothers, grandmothers, aunts, or even those who have been domestic workers in the past.
Since the beginning, our collective has formed a fundamental alliance with the feminist movement in Spain. Many of us were already feminists. In 2017 and 2018, we took part in the two latest feminist strikes, in which the struggle of domestic workers has been fundamental in tandem with the feminist movement. We were able to put the ILO Convention No. 189 on the political agenda of the feminist movement, and we were also able to put care and border issues on it as well, which are things many of us have been through. This has been a way to acknowledge the domestic workers' struggle within the feminist movement. These are relationships that must be built together, to take part and conduct actions together.
We don't just struggle for labor rights for domestic workers—we want the social reorganization of care. We want a community-based care system. We don't want this system to continue to be supported by poor and migrant domestic workers, specifically women, who are the ones doing whether paid or unpaid care work inside households.
This is what we are pursuing, grounded in feminisms: to restructure this patriarchal, capitalist, and racist system. Moreover, to make care no longer something supported by women only. We believe that this will also be a blow for the patriarchy, which has always inculcated the idea that women must take on care or the invisible work, while sustaining and managing life. Taking feminisms into consideration, our struggle as domestic workers is fundamental—it is like two threads that come together so that these struggles can be effective and exemplary.
With what view and perspective of change do domestic work and care organizing and politics contribute to social movements and unions?
Our contribution is the pursue not only of labor rights, but also of the restructuring of care. This has been a huge contribution for all social struggles. Right now, for example, by achieving the ratification of the ILO Convention No. 189, social organizations and feminist movements across society saw that our struggle is fundamental. It has been a learning process for many organizations and struggles to see our tenacity, our participation, and that we continue to have that as we pursue not only rights, but improvements, dignity, and the acknowledgment of this work. We owe it to so many women who have worked and struggled so that domestic work has dignity and rights as it should. We owe it to these grandmothers, these great-grandmothers, all these women who sustain and manage life and who have not been acknowledged.
The contribution of the domestic workers' struggle to social movements and unions is fundamental. Because all these movements in themselves have to do with domestic workers. We struggle for housing, decent public health care, we struggle to change borders where people are criminalized, abandoned, and ultimately find death.
As domestic workers, we are crossing all these borders, all these struggles that pervade us. We will continue to do this together, organized, promoting a political agenda and supporting ourselves. As we say, first we support each other, then we organize ourselves. When we organize ourselves, we know we are starting to win and build a society and a world where we, as women, are not sustaining care on our own; where we are respected and have rights like everyone else.
---
[1] A royal decree in the Spanish legal framework is a legal regulatory norm issued by the Executive branch grounded in the powers established in the Constitution (Source: Wikipedia).