Peasant and working women pursuing their rights in Haiti established the Haitian Women's Solidarity (Solidarite Fanm Ayisyèn—SOFA) in 1986, which has since brought together and organized the feminist struggle in the country. Women farmers who are members of SOFA have 13 hectares of land dedicated to organic farming, which was granted to them by the Haitian government in 2017. On this land, located in the Saint-Michel-de-l'Attalaye commune, they hold the Organic Farm School Délicia Jean.
In May 2020, the territory was claimed by Andy Apaid Jr., a Haitian tycoon known for leading the Group of 184, a coalition which in 2004 ousted Haiti's first democratically elected president, Jean-Bertrand Aristide, through a coup in collaboration with the United States. The action organized by Apaid to occupy their territory was brutal against SOFA activists; they destroyed the fences put up by project participants, where they had delimited a territory of equality and production free of toxic chemicals and exploitation. By seizing their lands, the goal of these perpetrators was to produce stevia to make sweeteners for Coca-Cola.
While the Farm School was in place, more than 240 women received training about organic farming techniques, which allowed them to grow bigger and more diverse crops, strengthening food sovereignty in the Artibonite region. The work SOFA conducts there has also made it possible to harvest and distribute seeds of different food types. Women farmers are seed guardians in many territories and they play a crucial role protecting diversity in nature, ancestry and heritage, and food for communities.
After this assault on them, SOFA pressured the Minister of Agriculture, Pierre Patrix Sévère, but he simply told them to try to negotiate their land rights directly with Apaid. The organization refused to do that, as they understand that power inequality and different interests amid this kind of negotiation just could not lead to a win for their grassroots demand. The minister then submitted a notification to SOFA offering a deal with the encroacher. The proposed deal backed by the government violates the Haitian law relating to land conflicts.
By stopping these women from working on their crops, the government ruled by the interests of capital puts several families at risk in terms of food security. The violent actions that force women out of their spaces of struggle and transformation are a systematic tool used for greed. Haitian industrials operate as middlemen for big transnational corporations in several industries, as is the case of Coca-Cola, in an imperialist dynamic.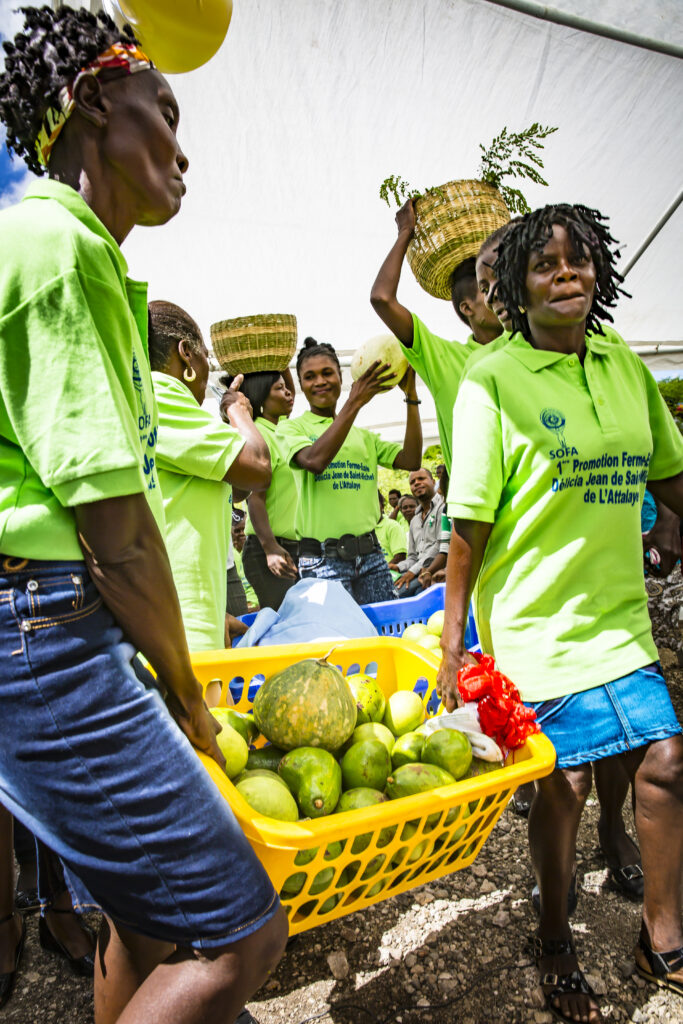 The Territory
Savane Diane encompasses a territory that spans through three of Haiti's biggest farming departments: Nord, Centre, and Artibonite. Because of the region's big relevance for agriculture, in 2018, the Ministry of Agriculture classified Savane Diane as one of the five priority areas for the country's food self-sufficiency. This savanna biome spans through roughly 200,000 hectares and all kinds of food are produced in this area: peas, okra, rice, peanuts, sugarcane, millets, moringas, many different kinds of fruit, as well as medicinal plants which have been very important during the COVID-19 pandemic.
However, on February 8th, 2021, president Jovenel Moïse and the minister of Agriculture have turned the area into a free agro-industrial export zone, which makes it very difficult for the country to have the possibility to provide food to its own people in the future. Moïse, who remains in office after staging a coup, won the election in 2016 with the promise of feeding the entire population.
Free Zones, Exploitation Zones
In a statement, Sabine Lamour, the general coordinator of SOFA, speaks ironically about Moïse's decision: "On February 8th, 2021, 24 hours after Mr. Jovenel Moïse's term had ended, a decree was published in the official journal Le Moniteur, signed by a minister that is actually no longer part of the government. This shows that these people are so eager to execute their schemes that they even do the wrong thing the wrong way." Free zones are areas where production is exclusively aimed to be sold abroad. This type of concession exempts companies from customs duty or from paying taxes to the country's General Tax Authority (Direction Générale des Impôts — DGI) for 15 years, as part of an unfair tax logic that fosters transnational corporations' profits while increasing the budget deficit and debt of an already impoverished country.
Making Savane Diane a free zone means allowing the destruction of nature and family farming. Through this process, farmers are forced to work for factories, especially the one that provides stevia to Coca-Cola. Their lives become more vulnerable, their hard work is underpaid, and there is no kind of social compensation, because there is no justice in this process. People from Plaine du Nord, Nord, and Artibonite are forced to leave to work on sugarcane plantations in the Dominican Republic or leave the country by boat, exposing their lives to the risks of sea travels under poor conditions, without any assurance that they will be allowed to enter the countries where they seek asylum (those who do that are known as "boat people"). In other words, this concession aggravates the country's food insecurity and impoverishment, including the feminization of poverty.
It is becoming increasingly clear that grassroots organizing is weakened by the State and big corporations, even though it is a hidden process, as Islanda Micherline pointed out in a video she recorded for Capire. The political situation of Haiti is a topic that is rarely discussed on international mainstream media, a disregard that is driven by the logic that sees the violence and encroachment of land in the Global South as normal. In March 2020, an average 4.1 million people in Haiti did not have enough to eat¹. Now, the country's authorities and industrials want to force an even larger part of the population into hunger and extreme poverty.
Once the crops in the Nord, Artibonite, and Centre departments disappear and are replaced with stevia, many more Haitians will be in the throes of induced poverty. So the continued resistance of women farmers claims for international feminist solidarity, as these sisters plays a major role: to change this route of inequality and take back this and all territories of the people as spaces of freedom, dignity, and sovereignty.
____________________________________________________________________________
¹ Data from the Food and Agriculture Organization (FAO), used in SOFA's political statement.