Indigenous women and girls have been fetishized since 1492, when colonizers first invaded our territories. To this day, Indigenous women are still in disproportionate danger of murder, sexual assault, and other forms of violence. As researched by the International Symposium on Human Identification, "Of all groups in the United States, Native women face the highest rates of violence. According to data collected by the US Department of Justice, in some US counties the murder rates of Native women are ten times the national average. The same report reveals that Native women are almost three times as likely to experience rape or sexual assault compared to White, Black, or Asian women. A report published in 2016 additionally suggests that interracial violence against Native women (and Native men) is more prevalent than intraracial violence, that is, most violent acts are committed by non-Native perpetrators."
The first documented case of Missing and Murdered Indigenous Women (MMIW) in the United States was who Disney calls Pocahontas. Her actual Indigenous name was Matoaka. The romanticized story you see on Disney is actually a lie. Matoaka was kidnapped, raped, used as a prisoner of war, and eventually poisoned to death at the age of 19.
Sacajewea is another well-known historical figure. She was a victim of child trafficking, knew several tribal languages, and was bought by members of the Lewis and Clark Expedition1. She was a teenager and got pregnant. Lewis and Clark wanted her, not only as an interpreter, but also as a human shield if they were attacked, for they felt they would be safer if they had a pregnant teen girl with them. She gave birth during the expedition. There isn't much known of her after the expedition; she lived with her husband and mysteriously disappeared or died. Colonalized history hails her as someone that chose to help Lewis and Clark, her story described as a woman who traveled with the expedition from North Dakota to the Pacific Ocean, established cultural contacts with Native American people, and contributed to the expedition's knowledge of natural history.
However, Lewis and Clark would not have survived without Sacajawea.
Since 2017, May 5th has been recognized in the US as a National Day of Awareness for Missing and Murdered Indigenous Women and Girls. May 5th is the birthday of Hanna Harris, a 21-year-old tribal citizen of the Northern Cheyenne Tribe who went missing and was found murdered on the Northern Cheyenne Reservation in 2013. This day and grassroots advocacy efforts, as well as recent documentaries, have garnered broader public attention to the crisis.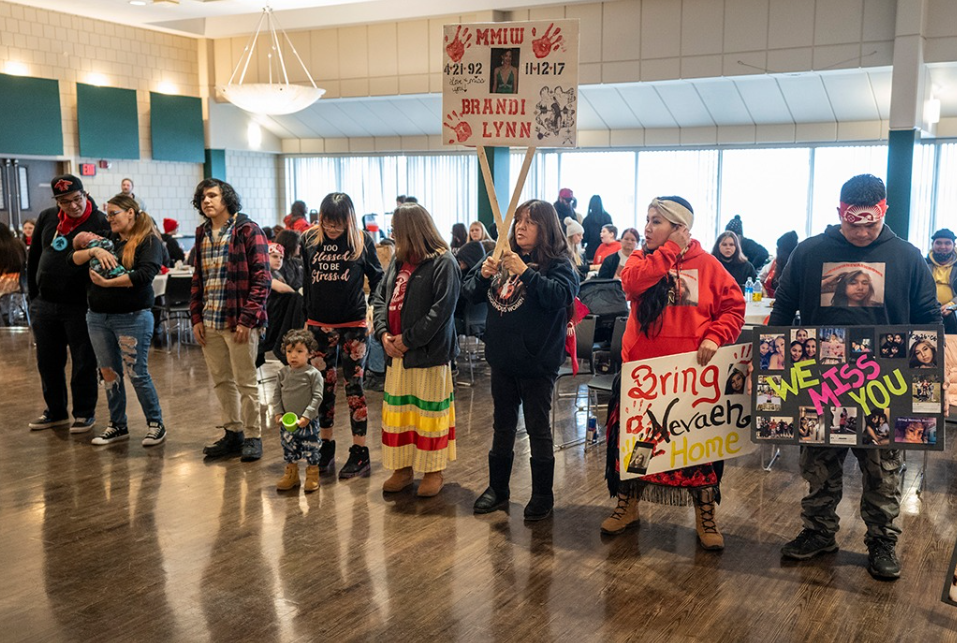 On May 5th, thousands of people across the country take part in marches, forums, community gatherings, and vigils, mourning and bearing witness to a relentless tragedy.
Most people at these events wear red, some with a red handprint painted across their mouths – a symbol for the thousands of Indigenous women over the centuries who have been murdered or gone missing.
Indigenous women and teens like Hanna Harris, Selena Not Afraid, Jermain Charlo, Kaysera Stops Pretty Places, Henny Scott, and Ashley Loring Heavyrunner are missing or have been murdered, along with, tragically, many more that don't make it into the media. The Jeannette Rankin Peace Center is in solidarity with Indigenous families of Missing and Murdered Indigenous Women and Relatives (MMIW/R). An artwork was displayed on the storefront window for the month of April in hopes of informing the wider community about the upcoming National Day of Awareness for MMIW on May 5th.

If you are interested in donating funds to support this cause, please consider contributing to an active organization that assists families with search and rescue for Indigenous people in Montana, the Snowbird Fund, or a GoFundMe site for MMIP, hosted by Charlene Sleeper, a Billings grassroots organizer, artist, poet, student at MSU-B, and a South Eastern Missing and Murdered Indigenous People Advocate. She's currently a foster care family advocate. On April 3, 2023, Charlene went to the cemetery in Hardin, MT, to visit family. Selena Not Afraid's grave is nearby and does not have a headstone. Charlene is committed to fundraise for Selena's headstone and for another headstone of an MMIW that is not well-known in the media.
Meriwether Lewis e William Clark, que lideraram a primeira grande expedição exploratória do leste ao oeste do continente norte-americano no início do século 19. [↩]