The Philippines is considered as the canary in the mine. In Asia-Oceania, we will suffer first what the rest of the world will suffer later. In 2013, we lost more than 6,300 lives from the Typhoon Haiyan. Before then, it was typhoon Ketsana that flooded and killed hundreds in Metro Manila. After Haiyan, it was Meranti in 2016, Goni in 2020, Surigae and Rai in 2021. We have been seeing the strongest typhoons in the recent decades and while risk mitigation has been a fad among interventions and has been moving forward, decreasing the toll on lives, the root causes of the climate crisis is yet to be addressed by international and state policies.
The people continue to lose houses, crops and means of livelihood. Women have been victims and continue to be vulnerable to trafficking and prostitution as a result of this. The Coalition Against Trafficking in Women – Asia Pacific (CATW-AP), as coordinator of the World March of Women in the Philippines, has been in the forefront of prevention, response and recovery.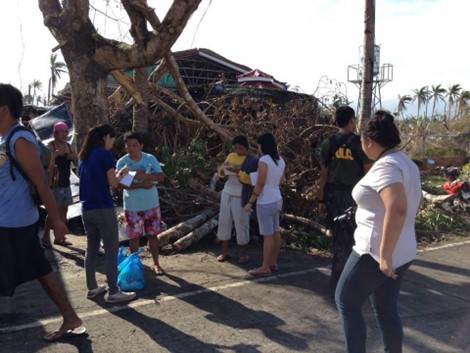 The rising sea level causing acidification of coral reefs means the reduction of fish catch by possibly 50%. In the Philippines, sea level is rising twice than the global average which has meant the displacement of people in coastal areas. As we know, if the rise in global temperatures exceeds the two-degree threshold, agricultural production will plummet and pandemics will probably occur more frequently.
The industrial model of increased extraction and productivity for the profit of a few is the prime cause of the problem.
We need to replace capitalism, which had meant patriarchal appropriation of nature, people's and women's lives, and its endless growth model for unlimited profit, with a new system that is participatory, one that addresses inequalities, and seeks harmony between humans and nature.
We need a system that links climate justice and human rights and provides for the protection of the most vulnerable communities such as fishers, farmers, workers, urban poor, and recognizes the rights of indigenous peoples.
The Earth and her natural resources cannot sustain the consumption and production needs of this globalized industrialized societies. We require a new system that addresses the needs of the majority and not of the few. To move in this direction, we need a redistribution of the wealth that is now controlled by the 1%. In turn, this requires a new definition of wellbeing and prosperity for all life on the planet under the limits and in recognition of the rights of the Earth and nature.
Currently, the situation in the Philippines is being aggravated by development aggression from China, such as the impending Kaliwa Dam project in the Sierra Madre mountains which will displace 1,400 indigenous families and will flood protected areas. The mountain range has been our major defense against super-typhoons such as Noru in 2022. China has built military bases in Spratly Islands and funded a bridge in Mindanao that threatens our coral reefs.
Meanwhile, the US has access to 22 ports of the Philippines and has destroyed coral reefs in an environmental sanctuary in Palawan. The Enhanced Defense Cooperation Agreement (EDCA), signed in 2014 under U.S. President Barack Obama, allows U.S. access to Philippine bases for joint training, pre-positioning of equipment and building of facilities such as runways, fuel storage and military housing, but it is not a permanent presence.
In general, it is crucial that we hold states and corporations accountable. That the binding commitments, not voluntary pledges, in Paris agreement of 2015 be upheld, to control planetary temperature rise to no more than 1.5ºC [2.7 ºF] this century by reducing global greenhouse gas emissions per year. Leave more than 80% of known fossil fuel reserves under the soil and beneath the ocean floor. Move away from resource extractivism by placing bans on all new exploration and exploitation of oil, bitumen sands, oil shale, coal, uranium, and natural gas including pipeline infrastructure like Keystone XL. Accelerate the development and just transition to renewable energy alternatives such as wind, solar, geothermal and tidal power with more public and community ownership and control.
Therefore, in the Philippines, we resist the privatization of electric cooperatives. With the leadership of SENTRO [Sentro ng mga Nagkakaisa at Progresibong Mangagawa – Centre for United and Progressive Workers], a 100-strong trade union center in the Philippines, we are also advocating to reclaim the power industry from private ownership as the past 20 years proved the failure of the law privatizing power. The women's section of SENTRO is part of the World March of Women in Philippines.
Some proposals summarized by Focus on the Global South, back in 2014, are crucial to address climate change within a just transition paradigm, such as: promote local production and consumption of durable goods to satisfy the fundamental needs of the people and avoid the transport of goods that can be produced locally; stimulate the transition from industrialized, export-oriented agriculture for the global supermarket to community-based production to meet local food needs based on food sovereignty; adopt and apply Zero Waste strategies for the recycling and disposal of trash and the retrofitting of buildings to conserve energy for heating and cooling.
It is also crucial to improve and expand public transportation for moving people and freight within urban centres and between cities within urban regions through efficient trains. Within this, in the Philippines, SENTRO is also fighting for a just energy transition in the public transportation sector, linking jeepney drivers' struggle for better working conditions with the need for government assistance in the transition to cleaner vehicle engines.
Traditional jeepneys are the cheapest form of transport in the Philippines. Yet, due to their diesel engines, they are a major cause of poor air quality in urban centres. In 2017, the government passed legislation to phase out diesel-engine jeepneys and mandate drivers to use electric vehicles instead. However, the modernization programme lacked support mechanisms to help drivers replace their vehicles. This lack of support sparked nationwide strikes and protests among jeepney workers.
'No modernization without a just transition' became the leading slogan of the campaign of the National Confederation of Transport Workers' Unions (NCTU), an affiliate of SENTRO. After a nationwide transport strike paralyzed key cities in 2017, the authorities agreed to a three-year grace period that would allow jeepney drivers to transition to electric vehicles or vehicles with cleaner engines.
Jeepney drivers realized the power of standing together, and many who were previously part of the informal economy organized themselves into transport cooperatives. Through their cooperatives, members started acquiring modernized jeepneys, some of them electric, using partial government subsidies. However, a comprehensive financial support package targeting vulnerable and informally employed jeepney drivers is still missing.
There is a need to develop new sectors of the economy designed to create jobs that restore the balance and equilibrium of the Earth system such as climate jobs to reduce greenhouse gas emissions and Earth restoration jobs.
Urgent, too, is the dismantling of the war industry and military infrastructure in order to reduce greenhouse gas emissions generated by warfare, and divert war budgets to promote genuine peace.
In connecting their struggles for new public homes in safe places to the climate crisis, community-based unions of SENTRO have turned the fight for new homes into a fight for climate-friendly new homes, equipped with solar panels. Communities of informal settler families that are being relocated to new public housing are demanding that their new homes have solar panels, allowing them to reduce electricity costs and increase their energy independence. However, due to the high costs involved in solarizing homes, local government units are hesitant to support the unions' demands, which limits the success of the campaign substantially. Securing local government support and funds for solarized public housing is a major challenge.
CATW-AP has also been building capacities of local communities in coastal areas and those most vulnerable to disasters, in the survivor-centered prevention and response to trafficking and prostitution with setting up of rights-based and gender-responsive community watch groups of women affected by the disasters. The trainings included self-defense trainings for women.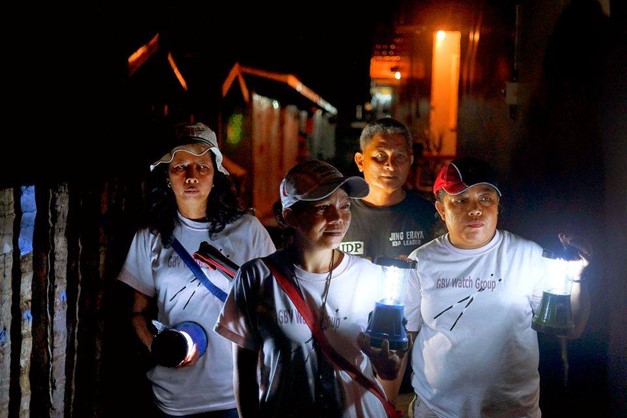 As a result, quantifiable decrease in cases of violence against women has been observed in evacuation camps. In owning their bodies and spaces as non-commodities like nature, they also rose as local community authorities exacting accountabilities from perpetrators of violence and demanding their rights from the state. In mobilizing resources for protection, the women also left situations of violence and have started rebuilding their lives towards self-sufficiency.
Together with survivors of violence against women, we set up community gardens, collective food preparation and food pantries to contribute to alternatives to corporate production.
At the same time, we must also be aware that not all actions are appropriate actions and that some initiatives can worsen the situation. Perhaps our most pressing challenge is the fact that transnational big corporations continue capturing the climate agenda to make new businesses designed to take advantage of the crises.
We can rely on grassroots movements such as the World March of Women to ground actions and radical frameworks in addressing the climate crisis.

Presented by Jean Enriquez at the Forum on Climate Change and Militarization held by the World March of Women in Bali on May 11th, 2023.
Jean Enriquez is the coordinator of the CATW-AP and the World March of Women in the Philippines.