"March 8, 2000, International Women's Day, will be a date to remember in the history of the women's movement worldwide," women from around the world announced in February 2000. That moment, feminist militants from more than 50 countries were getting ready for the launch of the World March of Women (WMW), a global movement of solidarity and resistance by women against capitalism and patriarchy.
Launching this mobilization on March 8 expressed a fundamental element of grassroots feminism: the continuous battle for radicality, for the ability to massively mobilize women and build a shared-action program. Such an organization was a reaction to the capture of women's struggles by hegemonic actors, including companies, multilateral organizations, and governments, a trend that had been increasing since the 1990s.
This battle remains today. On March 8, around the world, women reclaim the streets and public spaces as spaces to do politics, of collective organizing, and feminist expression and fearlessness. And they argue that feminism is a struggle by grassroots, diverse, working women—not one by companies and institutions that are complicit in exploitation, war, and inequality.
We look back on the process of launching the World March of Women in the 2000s as a way to affirm collective organizing, from the local to the international level, as a fundamental element of grassroots feminism.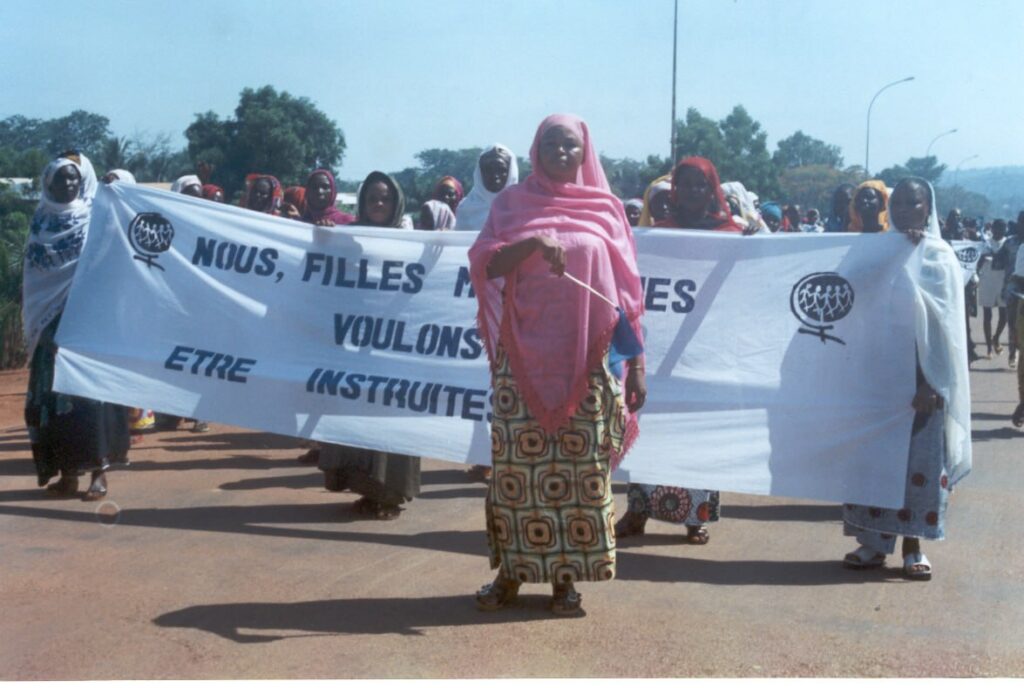 Organizing an International Grassroots Feminism
There were a lot of preparations happening for the several activities scheduled to take place on March 8 that year in countries across all continents. From their territories and cultures, women organized marches, panels, workshops, conferences, assemblies, forums, protests, and street rallies; they wrote songs, rehearsed choirs, and organized plays, parties, and dances all over the world. In fact, the song Capire is a result of that process, which involved contributions by women who wrote it in 24 different languages. These activities showed everyone's diversity and commitment to echoing the fearless political project of the World March of Women as it aims to promote political, economic, and social change.
This political project is radical as it brings together joint efforts by groups of grassroots women into one international movement to challenge the causes of poverty and sexist violence: a movement against patriarchal capitalism, which was not happy with the rhetoric and color washing introduced by neoliberalism, especially in the global South. The WMW has been around since then as an anti-imperialist and anti-capitalist grassroots feminist social movement, which is based on local struggles and internationally organized.
The actions carried out on March 8, 2000 echoed in an unprecedented way at the time, and they were only possible through the connection between women from many different contexts, having feminism as a shared pillar. These women understood feminism as "more than simply observing inequality and obtaining access to positions of power," as they described in the Goals of the World March of Women. They felt "driven by the need to dismantle systems that perpetuate fear and hatred of 'the other' and justify violence" and denounced "all systems that generate exclusion and reinforce domination."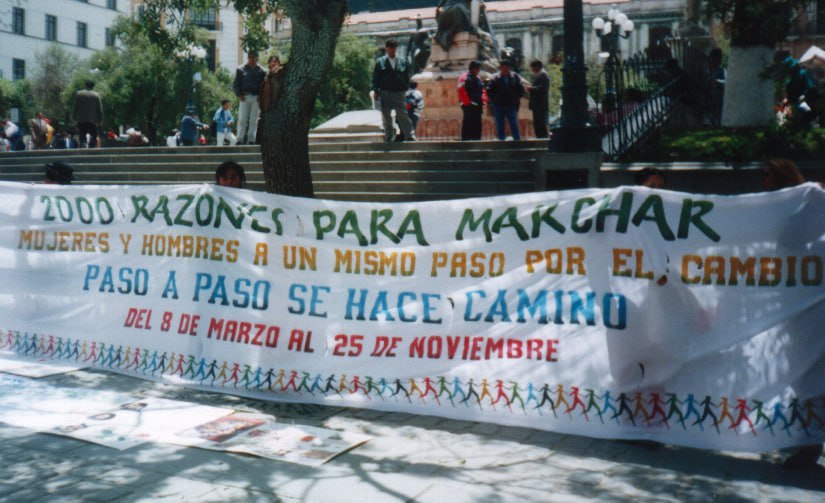 The Actions
The World March of Women was first launched as a campaign on that March 8, 2000. Its motto was "2000 reasons to march against poverty and sexist violence." The 89 national coordinating bodies that were established in the years they dedicated to organizing the campaign engaged in local and global mobilization with the shared goal of changing the world.
In Africa, there were actions in Burundi, Cameroon, Congo, Ghana, Guinea, Mali, Mozambique, Nigeria, Democratic Republic of the Congo, Rwanda, Senegal, Tanzania, Togo, and Zambia. The official actions to launch the March were combined with regional demands from each country. This is a characteristic of international grassroots feminism, which contends, in each territory and internationally, its project of equality, freedom, justice, peace, and solidarity.
In the Democratic Republic of the Congo, women marked the day by mourning the victims of the ongoing conflict in the country. In Ghana, the struggles for peace were combined with the struggles for the end of HIV. In Zambia, a peaceful demonstration denounced the rape and murder of girls. In most countries, the actions aimed to spark conversations with local governments and media, to spread the demands and turn them into effective changes in women's lives.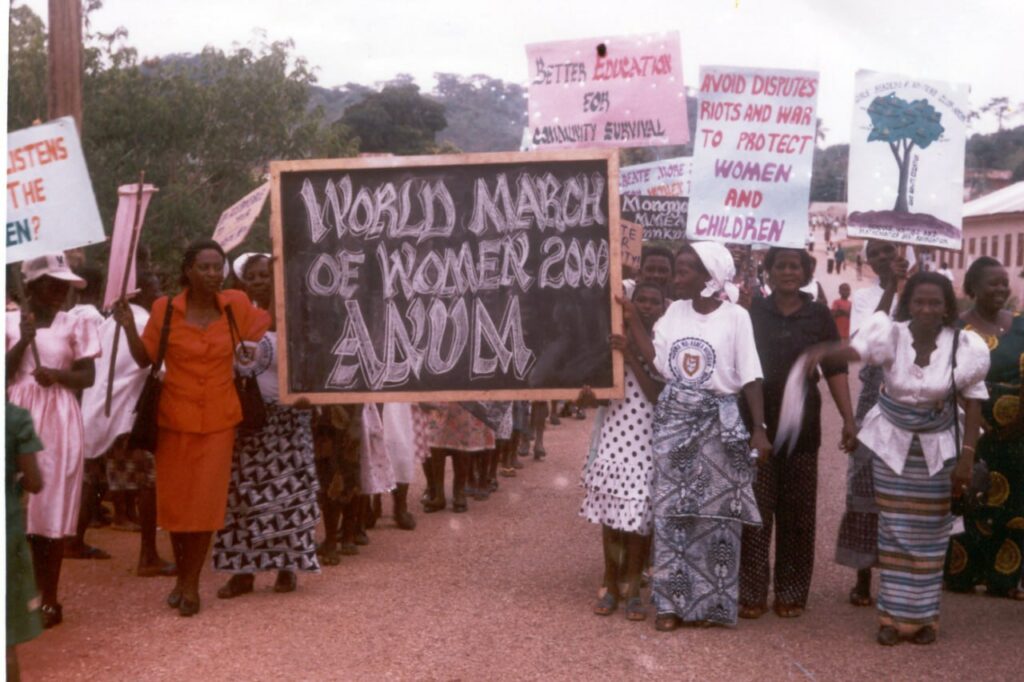 In the Americas and the Caribbean, actions took place in Argentina, Brazil, Bolivia, Canada, Chile, Colombia, El Salvador, Haiti, Mexico, Nicaragua, Peru, Quebec, and United States. In Chile, women demanded legal abortion and the trial of the dictator Augusto Pinochet. In Haiti, a band called Chandel performed a merengue concert with songs reflecting the demands of the March. Across the continent, thousands of women took to the streets in their towns and cities carrying flags, banners, and their colors to draw society's attention to this creative and defiant feminism that was being organized.
In Asia and Oceania, women carried out activities to launch the March in Australia, Bangladesh, Hong Kong, India, Japan, Nepal, the Philippines, and South Korea. In Bangladesh, women were already denouncing low wages and precarious work conditions—which had resulted, in 2013, in the tragic collapse of the Rana Plaza textile factory. In India, more than 200 organizations and 150,000 women took to the streets carrying flags of the March. Their demands reached the president of the country and received great media coverage. In the Philippines, women creatively and fearlessly held a fashion show with pieces denouncing violence, sex trafficking, and prostitution, holding protests attended by more than 20,000 women.
Belgium, Croatia, Cyprus, Yugoslavia, France, Italy, the Netherlands, Northern Ireland, Portugal, Romania, Spain, and Turkey were the European countries that joined the global campaign. In most of these countries there were press conferences, street protests, and cultural actions. In Portugal, the Ministry of Equality received a book with detailed accounts of poverty and violence experienced by women in the country. Geneva, in Switzerland, welcomed 200 women from 20 European countries for a cultural launch action, which was broadcast simultaneously in New York and Montreal.
In the Arab World, there were actions in Jordan, Lebanon, and Morocco. In the Moroccan capital, Rabat, 500,000 people marched with the slogan "Nous partageons la terre, partageons ses biens" ["We share the land, we share its goods"].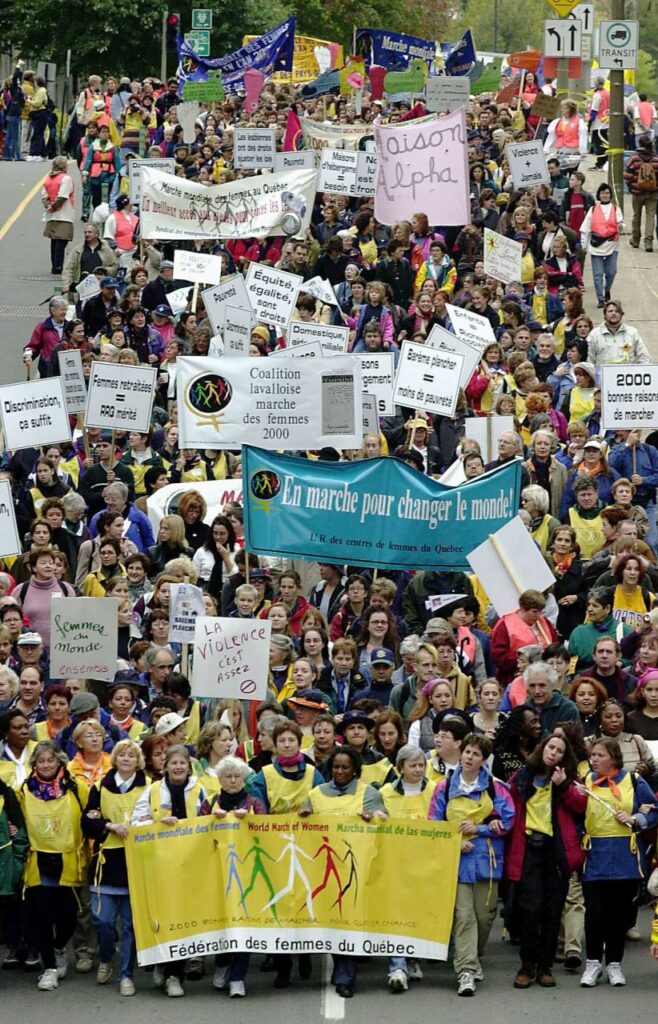 March 8, 2023
Remembering the memory of this movement-building process and, moreover, the Socialist origins of the International Day of Women's Struggles remains a strategy that "will further strengthen us in the ongoing process of building our grassroots feminism and will also re-establish our stance against the co-optation of this date by neoliberalism," as the World March of Women argues in its declaration on March 8, 2023.
The feminist strength expressed on the streets around the world on March 8 brings forth resistance, but also propositions and practices of change built by women. Therefore, on this March 8, the World March of Women challenges imperialism, fascism, and authoritarianisms, denounces the corporate power of transnational companies, the racist migration policies, and the commodification of nature. Meanwhile, it believes in collective grassroots feminist organizing, communication, and education strategies "to establish social relations in harmony with nature, based on reciprocity, where care is shared."
In all these years, internationalist grassroots feminism has been built based on alliances that empower women's struggles against violence and for food sovereignty. The strength of grassroots feminism is expressed in the call to action of La Via Campesina's women for March 8, 2023. They state, "By rebelling, we sow popular peasant feminism, build food sovereignty, and organize against crises and violence!"
We condemn the patriarchal and racist dimensions of capitalism that oppress society, particularly women, children, and individuals who do not conform to binary gender identities. In the current crisis of war and inequality, it is urgent to reaffirm our values of solidarity and internationalism, demand greater democracy and participation for communities, and continue to fight against all types of violence. Collective organization is essential to resist, to continue producing healthy food, and to reinforce Food Sovereignty as a way of life in our communities.

La Via Campesina
This March 8, Friends of the Earth International launched a video with the Nigerian Rita Uwaka. The video reiterates women's role in the sustainability of life and the central role of the feminist struggle to smash systems of oppression and exploitation.
We walked together on different lands, the same ones we sowed and harvested. We grew up together, exchanging knowledge and experiences. We honor the memory of those who are no longer with us. We hold up our homes, communities and organizations with the same horizon: putting life at the center.

Friends of the Earth International