Women in the agroecology and agroforestry movements have been affirming their forms of struggle and their relationship with nature, which manifest in how they care for the reproduction of human and nonhuman life on earth. Aiming to strengthen themselves, exchange experiences, and organize a joint struggle, more than 100 women with Brazilian agroecology, agroforestry, and feminist movements have organized a satellite event to the 5th World Congress on Agroforestry.
Women in the agroforestry movement in Brazil have been dedicated to building the Support Network to Women in Agroforestry (Rede de Apoio a Mulheres Agroflorestoras—RAMA). The RAMA was established in 2019 after a great meeting that brought together nearly 90 women including Indigenous women, family farmers, extension agents, and students. It represents how strong feminism has become recently, as women are more aware of the key political role of the care they practice toward nature. Even during the pandemic, the women of RAMA have organized to support each other in joint efforts (mutirões) and solidarity campaigns to donate food from rural areas to the outskirts of big cities, sharing experiences and building a huge support network.
The growing understanding of feminism within the agroforestry movement has led the women of this movement to bring it closer to the agroecology movement in Brazil. Women play, therefore, a major role in this alliance. This results in an increasingly political agroforestry movement, as it is sometimes limited to formulating and promoting cultivation techniques and loses sight of key demands such as land reform and food sovereignty.
This alliance between women from the two movements is also being strengthened in the environment of this academic conference, which discusses the production of knowledge. Women of the agroecology movement argue that, when they criticize agribusiness, they are not only criticizing a production and consumption model, but also an androcentric and patriarchal way of existing and being in the world, which annihilates other forms of knowledge and existing.
Agroecology presents itself as an alternative to that model, based on many fronts of struggle: by taking to the streets in public demonstrations, promoting the production of knowledge by the peoples and women, producing healthy food, and building solidarity-based markets that provide the poor with access to healthy food. Practicing agroecology also means standing against militarized and increasingly technified violence in rural areas.
Women Farmers
Women who are leaders in their territories (such as presidents of associations and cooperatives) face the serious challenge of asserting agroecology as a form of production while also affirming their own leadership position. They have been playing a relevant political role in agrarian reform settlements in Brazil against the political initiatives that favor the issuance of individual land titles for settlement plots, which fosters the trade of public lands in the market, to the detriment of the collective use of land.
They talk about having land titles as a benefit, but what really empowers us is not the title, but the land. It is providing land to these families who are living by the side of the road, who can only get bones to eat. We see beautiful scenes of agroecology, of sisters working, singing while their working in their backyard, but we know that this is happening in the same country where people are in line to take food from the garbage.
Agroecology farmers underscore how the lessons they have learned from the movement have changed the way they work the land. Based on what they have learned about agroecology and agroforestry, they have created a specific type of knowledge that combines their traditional wisdom with the lessons from the movement. They also affirm that agroforestry is a way of working in favor of the flow of life, because when agriculture is in favor of diversity, the plants take care of each other. Diversity of crops also translates as greater food variety for families, who then start to have a more diversified diet when they expand the diversity of their own production.
By apprehending agroecology and agroforestry, women give new meanings to these domains. Mexican women peasants, for example, have pushed the agenda of foraging food, medicinal herbs, and fungi in agroforestries, demonstrating that not everything that is important to communities comes necessarily from agriculture. By demanding their right to forage, they challenge private property and fight for free access to forests to get their livelihood from nature. By asserting their relationship with nature, they also build a different economic rationality, based on the commons and exchanges beyond private property and market.
In Brazil's Landless Workers' Movement (Movimento de Trabalhadores Rurais Sem Terra do Brasil—MST), women are on the front line of the campaign "Growing Trees and Producing Healthy Food." The campaign promotes the implementation of agroforestries as a strategic pillar of the movement, which has had agroecology as one of its principles for a long time. The women of the movement said that after a demonstration against the manufacturer of pulp and paper Aracruz Celulose in 2006, they started to formulate the centrality of women and care in the movement. This process has even change women's organizing inside the MST.
Feminist Challenges
The matter of technology is key for women building agroecology and agroforestry. They stand against the production of technologies for agribusiness, which translates as mechanisms of surveillance over territories. This is the case of the increasing use of drones, georeferencing, and sensors of all kinds in the so-called agriculture 4.0. Against this kind of technology, which is very similar to the technologies that took over the rural world during the green revolution and have greatly damaged the lives of the peoples and communities, they affirm the building of social technologies that can be used in favor of women. This becomes especially important in a political situation in which rural extension policies are being dismantled in Brazil while ideas are promoted that technical assistance to family farming could happen online, via applications.
Through this intense exchange of experiences, women start to question why men are still seen as authorities when talking about agroforestry farming. Very commonly, agroforestry experiences that are considered "successful" are made known through men, who are always featured as their masterminds. When we look further and take a closer look at these stories, it becomes clear that most collective agroforestry experiences have started with the engagement and work conducted by women, who decide to take on this form of work. Usually, it is after their experiences are successful that men start to take an interest in them and, sometimes, to boycott women's participation, as they are not heard and do not have their work in mutirões appreciated.
This is about the need to address the empowerment and promotion of agroforestry experiences conducted by women, which usually take up smaller pieces of land, are dedicated to self-consumption of families and communities, and are more diverse and productive.
Occupying Spaces
Women are willing to wage this battle in all different areas of society: their families, communities, movements, political institutions, the academy. At the 2017 Brazilian Congress on Agroecology, for example, there was an official space themed "memory of agroecology," where there were only men. In response, women not only occupied that space bringing the names of several women who have built the history of agroecology, but they also built a self-organized space featuring a time line of women's history in agroecology. This kind of movement must be expanded, including inside the agroforestry movement, in women's collectives working in mutirões.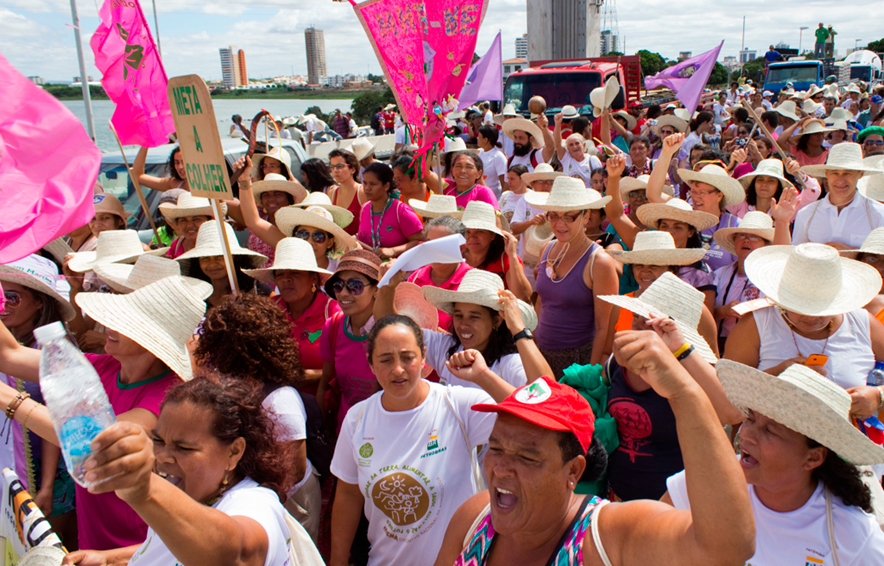 ________
The information provided in this article is based on the systematization of the activity "Agroforestry, Feminism, Agroecology: Interweaving Women's Knowledge and Practices." The featured quotes are by women who took part in the event. The activity took place online on April 26th, 2022 and was organized by the World March of Women Brazil, the Women's Working Group of the National Agroecology Platform (Grupo de Trabalho de Mulheres da Articulação Nacional de Agroecologia—GT Mulheres da ANA), the Support Network to Women in Agroforestry (Rede de Apoio a Mulheres Agroflorestoras—RAMA), and the Agroforestry Joint Effort (Mutirão Agroflorestal).