Among the tropical forests and mangroves of biodiversity-rich Borneo, the indigenous communities of Sarawak have lived in harmony with nature for centuries. Threatened by deforestation and land grabbing for oil palm, paper and timber plantations, communities are fighting back to defend their rights and territories.
"We can't afford to plant only one crop—we have to do what is of more benefit to us," says community leader Nuie Anak Samale, "and nobody can tell us what to do." Known to friends as "Superwoman" for her work ethic, Nuie is striking a blow for her family, her community, and the environment with every chilly, pineapple, and courgette she produces from her bountiful roadside plot in Sungai Buri, northeastern Sarawak.
Nuie leads a women's group in an area where agroecology, agroforestry, and community forest management are becoming potent tools in defence of peoples' rights, livelihoods and the forest's natural resources. Here, what Nuie refers to as "integrated farming" is not only beginning to roll back the damage done by logging and oil palm plantations, but directly challenging that destructive model of development. Where the government is pushing the one-crop cash-crop, this is agroecology as an act of resistance.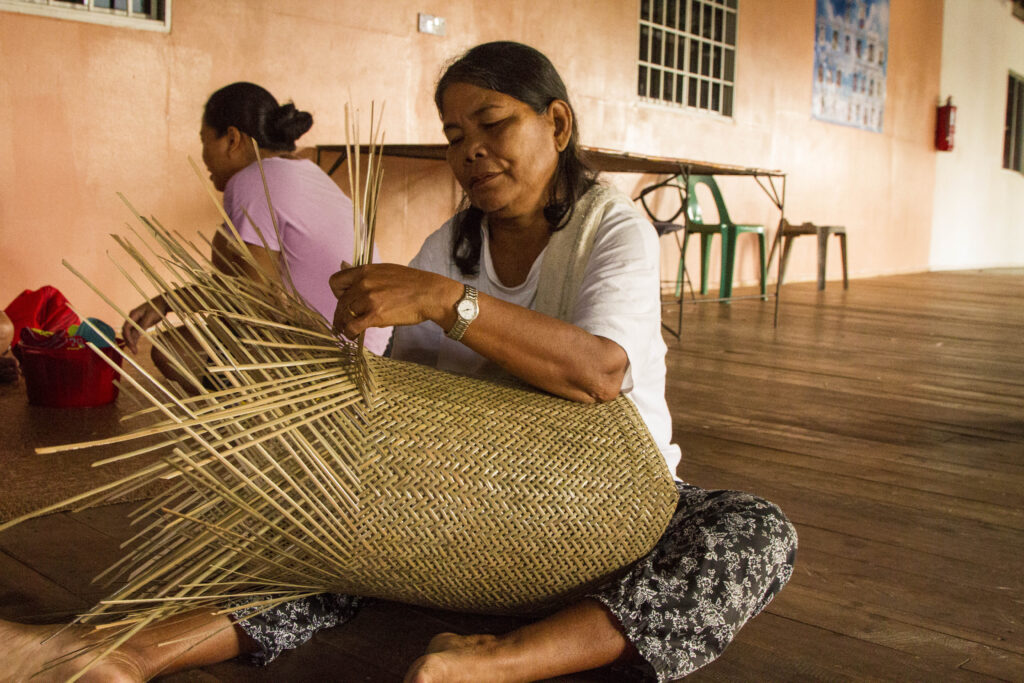 Background
By the end of the 20th century, excessive logging to supply global demand for tropical timber had left Sarawak state's forests largely depleted. As the demand for national palm oil continued to grow, Malaysia began to abandon the international Roundtable on Sustainable Palm Oil (RSPO) system in 2016, in favour of a national certification, The Malaysian Sustainable Palm Oil (MSPO). Since the 1990s, more than three million hectares of land—over a quarter of Sarawak's land area—have been designated for monoculture plantations.
Unlike forests, plantations are green deserts, with hugely negative impacts on plants, wildlife, soil and climate cycles, as well as local communities. When companies (both local and transnational corporations) grab forested land to replace it with monoculture plantations, they also rob Indigenous Peoples—who represent the majority of Sarawak's population—of their livelihoods, their "native customary rights" and their ancestral, cultural, and spiritual belonging.
Land grabbing and deforestation in Malaysia are a local manifestation of a global phenomenon: transnational corporations operating with impunity, disregarding human rights and the climate and biodiversity crises, within a global political-economic system led by profit, with weak environmental governance.
Although differing from state-issued land titles, customary land rights are protected under Malaysian law. By law, communities can claim rights to land which is occupied, cultivated, or used for religious purposes, rights of way, and hunting and gathering, in accordance with customs. However, there is a key loophole: since 1958, the State does not have to recognise peoples' sovereignty over their land unless they have a state permit. The Sarawak Land Code 1958 is very clear that no new customary land rights could be created without a state permit after that year.
Finally, while the Federal Constitution requires adequate compensation based on strict valuation processes for loss of a documentary land title, the compensation that communities receive for loss of customary land is based on state discretion, if they receive anything at all.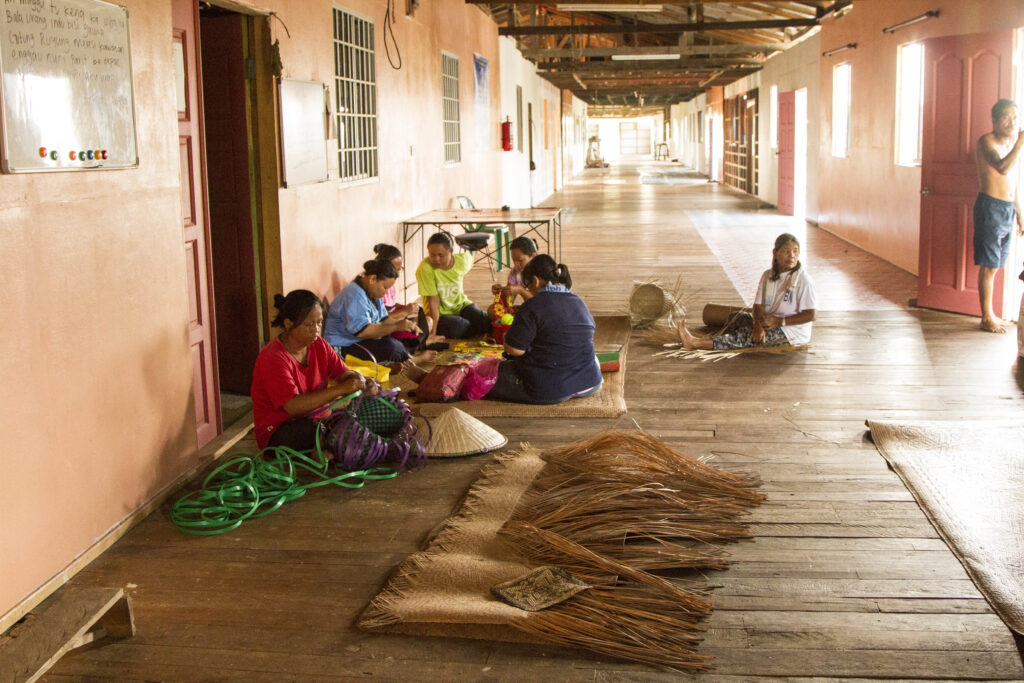 The Struggles Against the Appropriation Of Customary Land to Corporations
Indigenous Peoples in Malaysia have recognised and enforced customary land rights for centuries. In Sarawak, these rights are officially termed "native customary rights." In the Iban language, the entire domain of a customary territory is known as the tanah pemakai menoa, which contains two broad land use categories. The first is the family-owned cultivated farms, known as temuda. The second is the common areas shared by the entire community. A large part of these commons is the communal forest, known as the pulau galau, where community members hunt, fish, gather plants, harvest timber, and use rivers for water supply and daily travel. Sacred and burial grounds, as well as the community housing area, are also shared under collective rights.
The community applies ancestral knowledge and practices to maintain the delicate ecosystem of which they are just one part. The indigenous conservation practices are more effective at preventing deforestation and habitat loss than modern conservation techniques, such as "officially protected areas." Members of the Sungai Buri residents' association collect healthy seeds from the forest and propagate them at the nursery. A seed exchange scheme has been set up with sister organisations in Marudi, Long Miri, and Long Pilah, with different groups collecting seeds local to them—merbau, jelayan, rattan, engkabang, meranti, and fruit trees such as durian and langsat.
Women Are Sustaining Diversity in Sungai Buri
Sungai Buri is an indigenous territory about 30 km from the town of Miri on the northeastern coast of Sarawak. For generations, indigenous communities in this region have protected and managed their forests which have provided food, water, wood, fuel, shelter, biodiversity, seeds, honey, fruits, medicines, and animal feed.
But logging and expansion of oil palm plantations have polluted rivers and degraded soils, robbing communities of their ancestral lands and livelihoods in the process. Biodiversity has been disappearing and with it, not just the natural materials used to make handicrafts but knowledge of the forest too.
These are the conditions that Sungai Buri's community faced when they approached Sahabat Alam Malaysia (SAM/Friends of the Earth Malaysia) for support in 2017. At the time, they were the only group in the area resisting the march of the plantations. They formed a residents' association—an important step affording them legal status—and started thinking about restoring and protecting natural resources. They decided to set up an agroecology and tree-planting demonstration project, identifying an area of nearly 5 acres. The Sungai Buri community agroecology and community forest management project grows indigenous forest trees, bananas, pineapple, and daun long. "We try our best to help the whole community to plant local tree species," says Nuie Anak Samale.
Today, women working with the Sungai Buri agroecology project are using the products from the plantations to make mats, baskets, and traditional ties and wraps. Although, like many rural communities they struggle to market their handicrafts. "Right now we are around 20 women fully involved, but hopefully there will be more—and of course we want to give anyone the opportunity." Across the region, SAM is working to increase the number of women taking part in agroecology groups, and recently the gap has narrowed from just 20 per cent women to 40 per cent.
Although encouraged by government subsidies to cultivate oil palm, smallholders are at a disadvantage when it comes to selling their produce. And with prices for palm oil falling, some communities want to turn their land over to community forest management instead. There are thousands of hectares where forest could be regenerated in this way. Besides that, smallholders have difficulties getting licences to make this change where their territories do not fit the description of land cultivated before 1958.
A key part of the project is to teach and learn how to make chemical-free fertilisers from readily available ingredients. Compared to commercial counterparts these homemade organic fertilisers are better for the soil, better for people's health and better for their finances. "We can grow all the ingredients for the fertilizer," said Roseline Serai who attended the training in 2019. "I can make it at home and then we can apply it at any time." Sylvia William Endak said she expected to be financially better off, since she would no longer need to buy fertiliser for the fruit trees and pepper plants she tends for her family. "I have seen it helps the women understand the economic value" she says. "Now they are starting to realise that the modern fertiliser is not really good for health. It would be good if these kinds of agroecological practices, sustainable agriculture, were used throughout Sarawak and Malaysia because as we see it is a very sustainable farming method." These are lessons that come from a relationship with the land that respects diversity, work, ancestry, and the bonds of communities.
____________________________________________________________________________
This article is based on two articles published by Friends of the Earth International with thanks to Sahabat Alam Malaysia/ Friends of the Earth Malaysia for their inspiring work: "Nobody can tell us what to do": Agroecology as resistance and Defending territories and indigenous peoples' rights in Malaysia,