Kishwar Naheed is a Pakistan-based Urdu¹-speaking feminist poet. She has authored 13 poetry books, some of which have been translated and published in different languages in foreign countries. Kishwar is the author of the famous poem "We Sinful Women" (In Urdu, ہم گنہگار عورتیں), which later became the title of an Urdu-language contemporary feminist poetry anthology (We Sinful Women, 1991) translated and organized by Rukhsana Ahmad.
"It is not surprising that when women wanted to use the medium [of the poetry] to convey real, contemporary issues they had to abandon the more conventional forms, with their traditional images of women, and had to look at the possibilities of extending the language," says Rukhsana in the anthology. About Kishwar's poetry, she says that "her writing became more political, developing rapidly partly because of her determination to expand her work and partly in response to the political climate in Pakistan."
Kishwar was the editor of the literary magazine Mahe Naw and was also responsible for the Urdu translation of Simone de Beauvoir's The Second Sex. Over the course of her life, she has received tributes and awards acknowledging her literary contributions. Now Capire brings out her poem "To the Masters of Countries with a Cold Climate" in five languages, including its original version and previously unreleased Portuguese and French versions. When we asked Kishwar about what has driven her to write this piece, she said, "When I think back about the poem, it is reflecting the opinions of British colonialists, who have written at many places that people of the third world would never come out of basic need and politics as they grow in severe hot climates. This and such derogatory remarks about poor nations has evoked in me an anger against how they describe and humiliate us. The poem was written in the '80s. Pakistan was having another hell of Martial laws, with bitter laws enforced against women. The same laws continue up till now."
To the Masters of Countries with a Cold Climate
My country is torrid
maybe that is why my hands feel warm
My country is torrid
maybe that is why my feet burn
My country is torrid
maybe that is why there are boils on my body
My country is torrid
maybe that is why the roof of my house melted and caved in.
My country is torrid
maybe that is why my children are kept thirsty
My country is torrid
maybe that is why I am kept unclothed.
My country is torrid
maybe that is why one neither knows of clouds which bring rainfall
nor of floods that destroy.
And to wreck my harvests, sometimes moneylenders, sometimes wild beasts, sometimes calamities
and sometimes self-styled masters arrive.
Don't teach me to hate my torrid country
Let me dry my wet clothes in these courtyards
let me plant gold in its fields
let me quench my thirst at its rivers
let me rest beneath the shade of its trees
let me wear its dust and wrap its distances around me.
I don't want the shade of lightning shadows
I have the support of the rays of the rising sun.
The sun has made its energy accessible for my country
the sun and I
the sun and you
cannot walk side by side.
The sun has chosen me for company.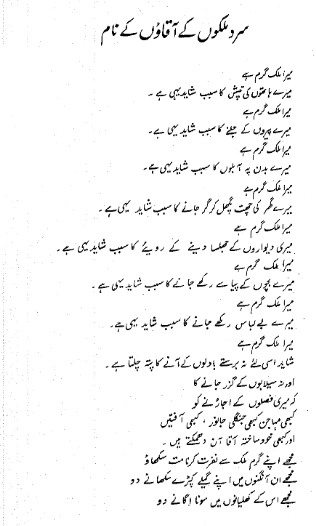 __________________________________________________________________
¹ Urdu is a language spoken chiefly in South Asia, with influence from Persian, Turkish, Arabic, Hindi languages.