The Union of Palestinian Women's Committees (UPWC) is a progressive, civic, and grassroots feminist organization founded in 1980. Since then, the UPWC has been striving to build a civil, democratic, and progressive Palestinian society, free from all forms of discrimination, in pursuit of justice. The union aims to improve the status of Palestinian women and empower them in a manner that guarantees true equality between men and women, and social justice for all segments of society.
The union is considered an integral part of the Palestinian national movement that struggles to get rid of the Israeli occupation. It is fighting side by side with all Arab and international progressive movements, against the aggressiveness of globalization and all forms of discrimination and injustice which any social group in the world is exposed to, especially women.
At UPWC, we believe in the right of women in general, and Arab and Palestinian women in particular, to fight for freedom, equality and social justice, standing up to challenges in all forms and causes. These chalenges are represented by social restrictions imposed on women—depriving them of defending their rights—, the practices of the occupation towards the sons and daughters of our people, and the stereotyped social image that marginalizes women and their role.
Our vision is based on the importance of the role of the feminist movement and the necessity to articulate it by raising women's awareness of their stolen rights, and the feasibility of their struggle towards freedom and social justice.
Despite the clarity of its human rights vision, which deals with women's rights considering them to be an essential component of the Palestinian people, the Union of Palestinian Women's Committees has faced, and still faces, difficulties and challenges aimed at liquidating its historic work and legacy in support of the resilience of Palestinian women. These difficulties were represented in several arrests of the president of the UPWC, travel bans, pursuit and arrest of volunteers and employees of the union, the raiding of their headquarters, tampering with evidence and confiscating the union's property.
The UPWC is facing a smear campaign launched by the Zionist colonial entity, which is branding its name as terrorism. The violations of this brutal occupation were not limited to violence, killing, displacement, and arrest against our people, but they rather extended to include our ancient civil rights organizations. These have always been considered a historical and militant body that expresses and defends the rights of the Palestinian people and the rights of its women and children.
On the 19th of October of 2020, the so-called Israeli Minister of War and Occupation, Benny Gantz, declared the classification of six well-established Palestinian civil society and human rights institutions as illegal "terrorist institutions," under the Israeli Counter-Terrorism Act of 2016. A military order has also been issued on the 3rd of November of 2021, declaring these institutions as "illegal" in order to extend the application of this resolution to the occupied Palestinian Territory.
This classification comes within the continuous policies of the occupation to undermine and restrict everything that is Palestinian and to break up any protective, defensive, and supportive body of the Palestinian people, its women, elders, and children. While this was only clear evidence of the importance of our role in confronting the policies of the occupation against our Palestinian women, which include arresting, killing, wounding and persecuting, this classification came as an escalating step and an integral part of a series of systematic smear campaigns against male and female activists working in human rights institutions. It is nothing but an extension of the policy of apartheid and the imposition of control over the Palestinian people, including all its components.
The decision to criminalize these institutions would legitimize any acts of revenge against them and unfairly hold them accountable. As this classification aims to liquidate Palestinian civil work, it means banning the activities of these institutions, cutting off their funds, and preparing for the arrest of their employees and volunteers on charges of belonging to terrorist organizations. Last but not least, it also legitimizes their raids, confiscating these institutions' assets and shutting them down.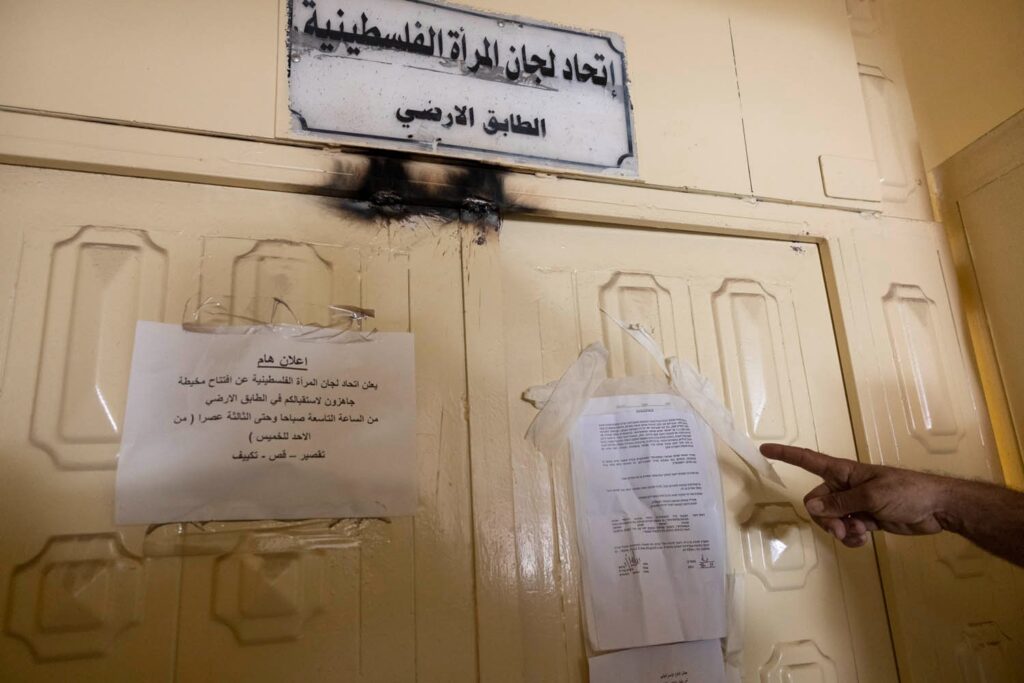 This classification constituted a state of concern amongst the women working in the Union of Palestinian Women's Committees—45 female employees work in the union. The organization in turn provides job opportunities for about 60 educators in kindergartens and serves women who benefit from psychological, legal, social, and economic support offered through the union's programs, and who have become vulnerable to more violence, suffering and being deprived from receiving this support. Furthermore, Ghassan Kanafani kindergartens affiliated to the Union of Palestinian Women's Committees—most of which are located in marginalized Palestinian areas and communities—graduate about 1,000 children annually. This classification deprives them of their right to education guaranteed to all other children in the world.
This classification is not based on any legal justification, and therefore consists of fabrications and baseless false accusations. Perhaps the most important thing that proves this is the declaration of nine European countries on the continuity of their cooperation with the six Palestinian institutions classified as "terrorists," due to the absence of evidence to prove the allegations of the occupation, confirming that they will continue their cooperation with these institutions in the absence of any evidence to prove this claim. These countries indicated the need to deal seriously with this unfair and arbitrary classification of human rights institutions.
We, in the Union of Palestinian Women's Committees, believe in our legitimate humanitarian and national right guaranteed in all international and humanitarian charters to achieve our dream and vision of getting rid of the occupation and living in dignity on our land, and our right to practice all forms of legitimate response. Therefore, the process of defending Palestinian women's rights and supporting them psychologically and legally, empowering them economically and socially and activating their role, will remain a lofty goal we strive to achieve.
Also, our right to freedom and to express our feminist position on issues is an integral part of our faith and conviction within our feminist framework, despite all false distortion attempts and all forms of injustice against our women who are languishing in poverty, exploitation, oppression, and colonialism. We also affirm that our struggle for our freedom, and the freedom of our women, is an embedded part of our vision that we struggled and struggle to realize. Hence, we will not flinch or fail to defend our firm historical rights. This classification will only increase our steadfastness, determination and willingness to continue to get back our usurped rights, and to continue the confrontation against the occupation entity and its arbitrary decisions.