On December 30, 2020, the majority of the Argentine Senate voted for legalizing abortion. Passing the law for legal abortion in Argentina is the outcome of a broad and intense process of national and territorial mobilization, which encouraged and inspired feminist activists in the Americas and around the world. A year and a month later, Argentine women continue to organize, monitor compliance with the law, demand increased access to services and that women who have been imprisoned for abortion-related offences are set free. Legal, safe, and free abortion is a demand that strengthens democracy and only comes true when it is anchored in debate, struggle, as well as broad and popular feminist pressure.
To understand the feminist struggle for autonomy throughout the first year of legal abortion in Argentina, we spoke to Martha Rosenberg, one of the founders of Argentina's National Campaign for the Right to Legal, Safe and Free Abortion. Psychoanalyst and lifelong feminist activist, Martha shared with Capire her political assessment of the strong mobilization process that led to the legalization of abortion, as well as her commitment to continue protecting the right to abortion and making sure women can exercise such a right. Martha is the author of Del aborto y otras interrupciones [Of abortion and other interruptions], a book that gathers articles on women's struggles for autonomy written throughout her life.
On December 30, 2020, the Voluntary Interruption of Pregnancy Law was enacted in Argentina. The passing of the law is the result of a lengthy process of feminist mobilization. What was the struggle like?
A year later, it is important for me to highlight that the struggle is ongoing. The struggle did not come to an end after the passing of the law. Such achievement, which totally changes the landscape of abortion practice, was a historic milestone for us: Voluntary abortion is no longer a crime and became a legal procedure. But the fact that the law has been enacted does not automatically change the conditions associated to the practice of abortion. First, all public policies that guarantee equal access to legal and safe abortion must be implemented. The State is responsible for performing this hard work. It is a federal law that must be put in force mandatorily and immediately in the Argentinian territory.
In Argentina, there is a stark difference in the territorial distribution of reproductive and sexual rights according to regions in the country, the level of development of different provinces, and the type of political orientation in provincial governments. There is a clear orientation in Northern Argentina, which is very conservative, extremely poor, very much subjected to such ideas. This has been so for a long time now. That is something that has been going on for decades with a particularly important influence and domination of sectors linked to the Catholic Church and evangelical churches conservative thinking.
Public policies require a budget, they require trained providers. This cannot be done overnight. Much less with the opposition that has been defeated, but not annulled, in our country. There are conservative, misogynistic, and anti-rights opposition forces that have grown a lot stronger in recent years after the first voting session in 2018, when we lost in the Senate by very few votes. There has been a regrouping and strengthening of anti-abortion forces. The same thing has happened all around Latin America and the world.
Keeping the green scarf in our pockets or purses and using it whenever we went to an event… What used to be a sign of identification in the demonstrations has also gained the same meaning in everyday life. Many young girls use the green scarf tied to their backpacks. They go to school, college, walk on the street and use this symbol in their communication platforms. The green scarf has become a symbol widely used by feminist movements in all countries, not just in Latin America. It has become a symbol thanks to our proposal that placed the right to abortion as a right interrelated with all other rights that allow legal, safe, and free abortion.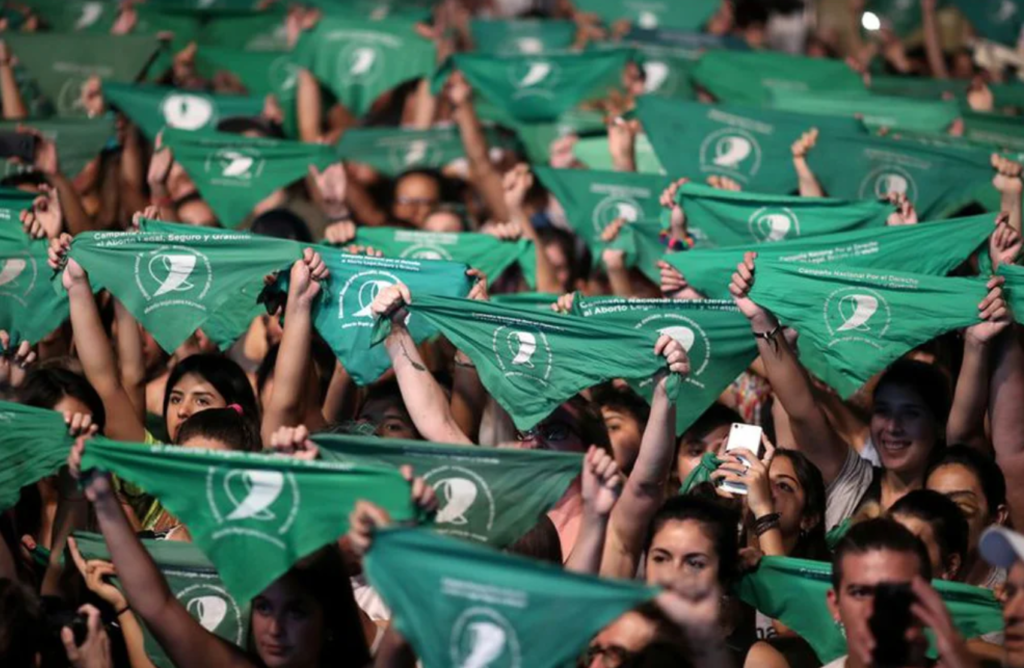 In Argentina, there are "causales," legal permissions for abortion when women get pregnant after being raped and when pregnancy is a threat to the mother's health and life. These two concessions have been in place since 1921. However, enforcement to such concessions were scarce. People have always had to resort to judicialization for those concessions to be granted. What we did for 16 years was carrying out the campaign for legal, safe, voluntary, and free abortion for up to 14 weeks of pregnancy for all women and people. We have also advocated that abortion is still legal without a chronological deadline (for gestational age) for concessions that were already legal.
We support a triple motto: "sex education to decide, contraceptives not to abort, legal abortion not to die." As regards the first two mottos, which are placed according to the level of importance for prevention, the law ruling on sex education has been neglected for 16 years, in most parts of the country. To this day, the law is not applied as it should. The Law 25.673 on sexual health and responsible reproduction has been enacted in 2003. The Law has reached quite stable structures. But it is also not being enforced. Contraceptive supply structures have been dismantled. The Health Secretariat has been downgraded during Macri Administration. There have been a series of cuts in access to free contraceptives available to anyone of childbearing age. There is a lack of publicity campaigns, which are how people learn they are granted these rights.
The abortion law is very good. It was passed thanks to the support of the executive branch. It had been under discussion since 2018 when President Macri placed it on the parliamentary agenda with a position of opening the discussion and expressing his strong opposition. From that moment on, there has been a debate at all social and political levels. The abortion issue became a political issue that all parties fought over. President Alberto Fernández declared his support for the law in the presidential race. Such a move has secured President Fernández extra votes – because the right to abortion is no longer a "vote scare issue," as people would call it in the past.
The campaign has unfolded into a vast number of forms of action by means of political coalitions with different social movements. The right to abortion has become a political issue constantly at debate. President Fernández has introduced his own bill to legalize abortion, which was delayed because of the pandemic. We decided to insist on introducing the project when everyone was saying "no, because of the pandemic we must shut up, it is not a priority." During the entire first year of Fernández Administration, we have conducted a very important campaign on the urgency of legalizing abortion. It is called Urgente, urgente! Aborto 2020! (Urgent, urgent! Abortion 2020!)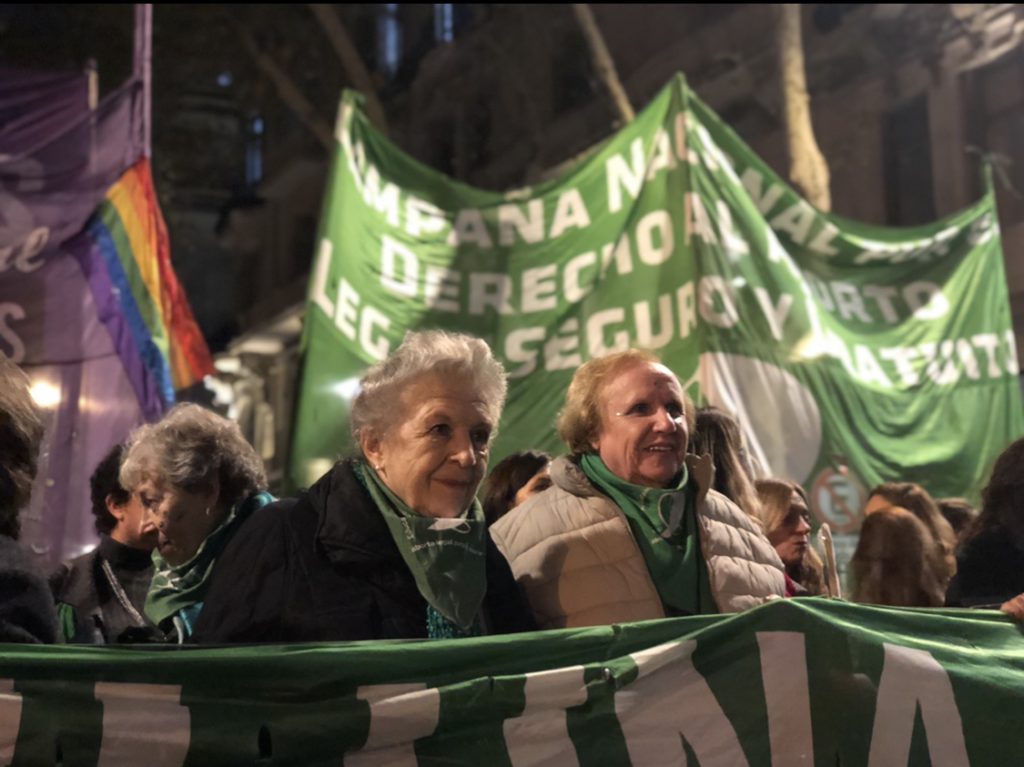 You have talked about the scarves, the triple motto, the 2020 campaign… Are there any other elements of the strategy that have been critical to the successful outcome of the struggle that you would like to highlight?
The idea of a national campaign emerged in 2003 at the National Meeting of Women in Rosário. The National Meeting of Women is a very characteristic feature of our women's movement. It is original. It is not commonplace in other countries. We have been hosting these meetings since 1986. They take place every year, in a different part of the country, where women of all classes and from all over the country go. It is an autonomous and self-funding event. Women organize parties, raffles, and solidarity actions to save enough money for the event. The meeting sessions are places of full transversality, federality, political plurality and diversity of sexuality, gender, and ethnicity.
Argentina's National Campaign for the Right to Legal, Safe and Free Abortion has been a type of interstitial construction. It has been available everywhere in a democratic and participatory way. There is a national articulation commission mobilizing regions and forms of activism. The commission drafts joint policies but political strategies are always drafted in the Campaign's National Plenary Sessions.
It was also especially important to build a coalition with the movement Ni Una Menos [Not One (Woman) Less]. From 2015 on, it became a mass movement in response to the atrocious crimes of femicide, which continue to occur in our country. At first, our motto was "not one (woman) less for clandestine abortion." This has also sparked a very important growth for the movement. We support queer movements with our solidarity in the struggle for respect of gender identity and equal marriage. We have joined many struggles for human rights. Our handkerchief logo has the white handkerchief of the Madres de la Plaza de Mayo [Mothers of the Plaza de Mayo], which are an icon of the struggle for human rights in Argentina and a very important component of policy at the national level.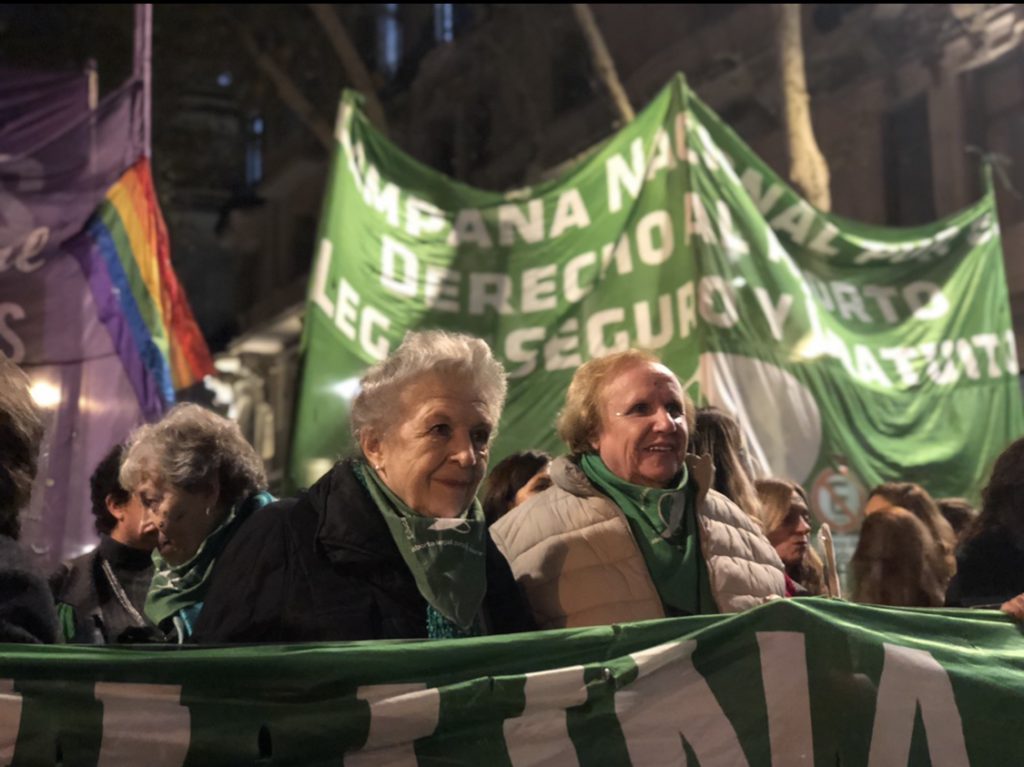 We have built an important coalition of movements. It is a place of political ties, where we have allies in all political sectors, including the coalition of congresspeople who struggled in 2018, which was called Las Sororas. There is a lot of scholarly work on how this movement was constructed as a kind of political experiment to expand democracy.
At this moment, one of the most critical issues is to keep the movement's political autonomy. Many sectors misunderstand the fact that we won the vote with support from the current presidential Administration. These sectors believe we have some kind of political dependence on the government. The presidential project has copied parts of our project. Also, we would have liked it if the President had introduced our project as his own but that was not the case. From a political point of view, we have put together a remarkably successful mobilization. It was introduced together with the so-called Thousand Days Law, protecting pregnant women until their children are three years old, which greatly expands protection already in place. I think it was a political decision to balance rejection from more conservative sectors.
Not all provisions of the law are what we wanted. For instance, the conscientious objection provision was placed in the presidential project. Experience shows that, based on this conscientious objection, obstacles, impediments, judicialization of illegal practices in health institutions have risen last year. Institutions must grant the practice of abortion despite all their members being conscientious objectors. There are breaches in the law that make room for practices that restrict access to the law, which some service institutions perform illegally. They delay the process and judicialize it, contrary to what the law sets forth. They do not win these battles. But that means many people will suffer when attempting to exercise their right to abortion. This issue requires a cultural change, which in turn, requires publicity campaigns that are still to be created, as well as the effective implementation of comprehensive sex education throughout the country.
Despite these challenges, what has changed in women's lives a year and a month after the law was enacted?
What has changed subjectively is particularly important. Women who know they can resort to abortion without being punished, stigmatized, mistreated, have much more freedom to make decisions about their own lives. These women feel they have greater social value. This does not happen on its own, as there are a series of changes associated to it. The number of calls to the Ministry of Health's sexual health hotline has grown exponentially, as have abortion consultations that, from this line, are forwarded to services close to the consultation location that are performing voluntary and legal abortion.
The number of abortions performed in most jurisdictions has, of course, increased because it is now declared. In the past, abortions were clandestine and secret procedures. In the past, people would conceal something that could be a reason for punishment, imprisonment, social and effective condemnation. There is an especially important campaign advocating for freedom to prisoners who have been sentenced because of abortion-related offences and against other practices used to prosecute women for other obstetric events. Such cases were not discussed when voluntary abortion was still illegal. Currently, by the principle of the law now in force, they should be released immediately.
Clandestine abortion is a risk to life. Now, women can decide to have an abortion by taking the threat to their lives off the scales. Women know they can safely have an abortion. Even so, over the last year there have been cases of death from clandestine abortion procedures, which has to do with the lack of publicity, sexual and comprehensive education, and access to health services.
Rescuer comrades are a very important network as they provide the solidary practice of follow-up, sharing information, and creating a culture focused on feminist solidarity. The network focused on the drug-driven method when it was not as widespread as it is now. There has always been plenty of discussion, as the campaign's goal was to achieve State legality and responsibility as regards the practice of abortion. But this alternative has built a practice extraordinarily rich in terms of exchange and experience. Medical teams refer to rescuer comrades to learn from their accumulated experience.
Building the access to legal, safe, and free abortion is a highly many-voiced endeavor. It is an example of democratic political practice and amplification of rights for women and people who are pregnant, which are basic elements for social transformation around the world.
What message would you like to pass on to our comrades around the world who fight for the autonomy of their bodies and sexualities?
It is a necessary struggle. It is not enough for social transformation, but it is something we must keep on striving for. We cannot give up on the struggle. We must support this struggle by fighting many other struggles to create the best environment to exercise the right to abortion. It is a struggle that communicates with all social rights relevant to the concrete conditions of life that allow the practice of abortion to be something that can be chosen and accessed, without women facing dire consequences for their health, lives, and freedom projects.