To tell the story of our nation, we need to name many women. But to speak of female emancipation, both in Cuba and throughout Latin America, we need to evoke Ana Betancourt.
Ana María de la Soledad Betancourt was born on February 14, 1832, in Santa María del Puerto del Príncipe, Camagüey. She was born into a wealthy Creole[1] family, which allowed her to study subjects such as music, religion, embroidery, sewing and domestic economy. Being under the domination of a metropolis like Spain, considered one of the most severe at the time in terms of application of codes of conduct, heightened the patriarchal culture of the country.
Women like Anna were trained, from early childhood, to be good wives. They were prohibited from walking on the street, as it was considered an indicator of their moral and sexual status, as was dancing or smoking. In the normative bourgeois belief, these activities were reserved for men.
On the other hand, Afro-Cuban women enjoyed greater freedom in the urban space due to their active role in the economy. Enslaved and free women participated in the market, performing various trades, working as sellers, artisans and entrepreneurs. They could also be midwives or primary school teachers.
Although the restrictions imposed on them were different, the truth is that all women were in a position of inferiority in relation to men. While their honor was negotiated in the public sphere (on the battlefield or at work), women's honor was placed entirely in their bodies. Middle- or upper-class white women had to marry a "virgin" in order to assume her role as a "decent" wife. In the case of black women, prostitutes and the poor, it was thought that, given their status, they had been born without honor.
Even with these social barriers – or maybe because of them –, many women refused to sit on the sidelines and joined the struggle for independence, which began on October 10, 1868.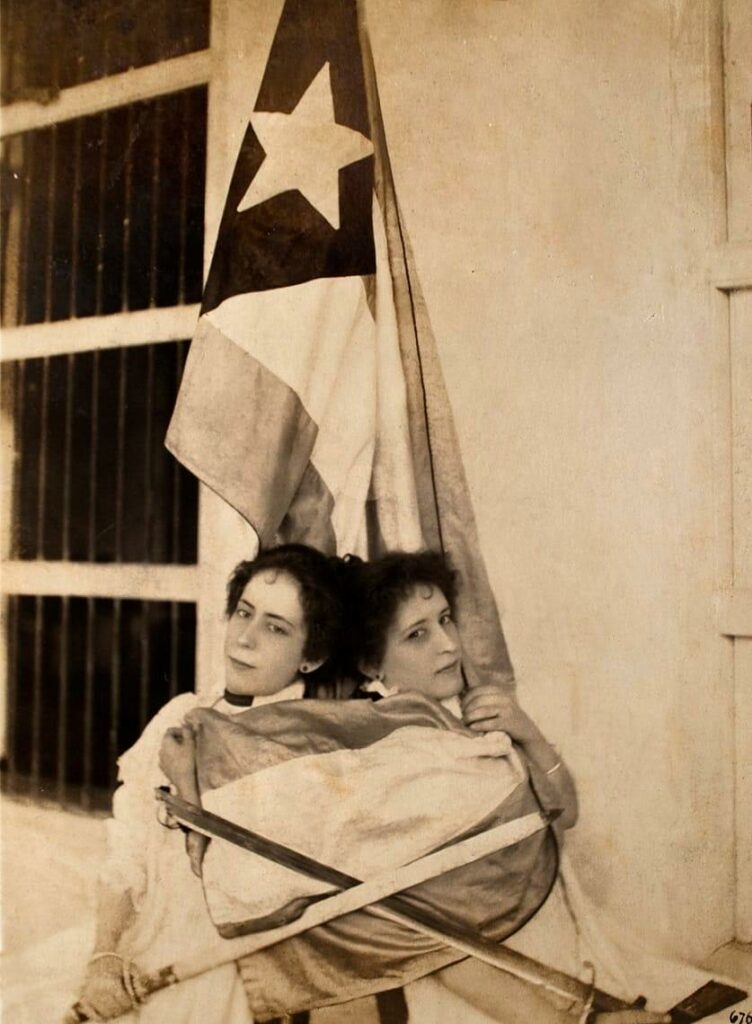 The Ten Years' War was the first of three wars that took place on the island against Spanish colonial forces, and had an anti-slavery, anti-colonial and national liberation character. Although some women got involved because of their political and social ideals, others did so following the men of their family, because when they went to the battlefield, women were left unprotected from mistreatment by the Spanish army.
Whatever their motivations, they all showed unquestionable commitment and courage. For this reason, several obtained military patents. About a dozen women were named captains: Luz Palomares García, Ana Cruz Agüero, Adela Azcuy, Rosa María Castellanos Castellanos, María Hidalgo Santana, Trinidad Lagomasino Álvarez, Catalina Valdés, Isabel Rubio Díaz and María de la Luz Noriega Hernández. Likewise, Mercedes Sirvén Pérez-Puelles, who had a Pharmacy degree, reached the highest position among the mambises [guerrilla fighters who struggled for Cuban independence], being promoted to commander in 1897.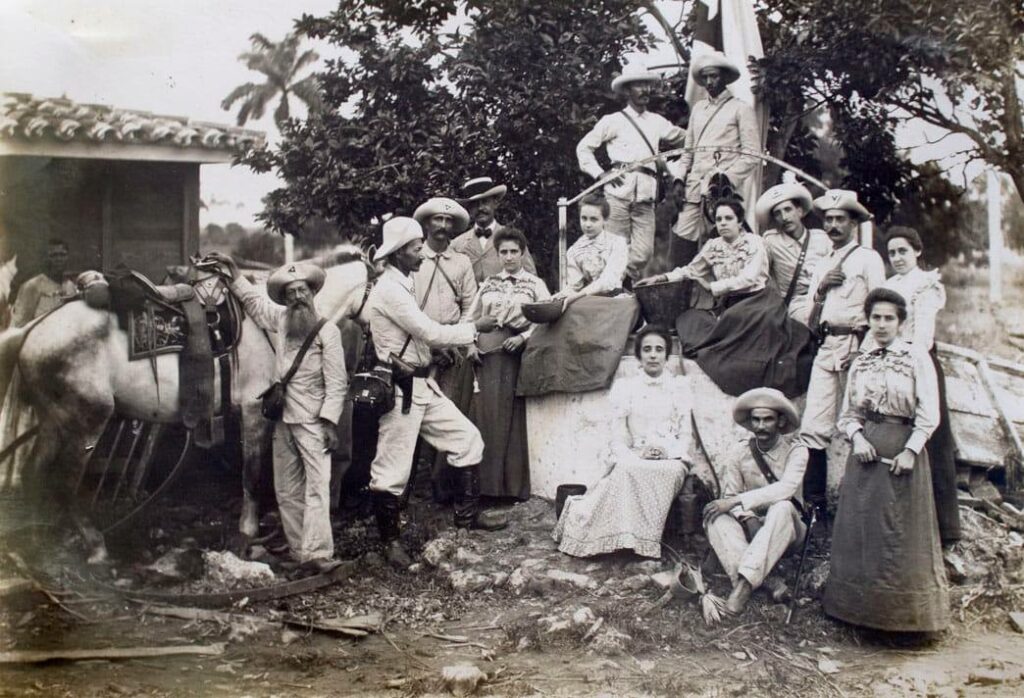 Ana Betancourt's participation in the struggles
When the war broke out, Ana Betancourt had been married for 14 years to Ignacio Mora de la Pera. Going against the formalities of the time, her husband encouraged her to broaden her knowledge and to actively participate in the meetings organized at their home. So, she learned English and French all by herself, as well as grammar and history. In these meetings, the participants shaped the idea of Cuban independence.
Ignacio marched to the battlefields a few days after the insurrection for liberation began. In turn, Ana's commitment to the revolutionary cause materialized in multiple actions. She offered her home as refuge for the persecuted, where she also stored food, weapons, and war supplies. In addition, using the knowledge acquired in recent years, Ana created slogans that circulated both in the city and among the mambises.
She was so committed that she was appointed an agent of the Camagüey Revolution Committee. In less than two months, Ana Betancourt began to be considered a danger to Spain. The arrest warrant issued by the government did not take long to arrive. Fortunately, she was alerted, and on December 4, 1868, she fled into the mountains, where she would eventually meet up with Ignacio and the rest of the troops.
From April 10 to 12, 1869, the Constituent Assembly of Guáimaro was held, an unprecedented event in our country, whose main outcome would be the writing of the first Cuban Constitution. This meeting also enabled the creation of the Chamber of Deputies.
Understanding the importance of that moment, and not knowing that with that she would gain a place in history, Ana presented a petition to the Chamber on April 14th. In it, she asked Cuban legislators, as soon as the Republic was established, to grant us women the rights that, according to what is fair, we should have. Unfortunately, this demand had to be read by her friend Ignacio Agramonte – who would later be named Major General of the Liberation Army and head of the Camagüey division – since she, being a woman, was not considered a citizen.
If this action may seem daring, an even more fascinating one would come that night, when Ana spoke energetically at a rally that consecrated her as a precursor of the defense of women's rights:
Citizens, the woman in the dark and quiet corner of the home has waited patiently and resignedly for this beautiful occasion when a new revolution breaks its yoke and unties its wings. Here everything was a slave: origins, color and sex. You want to destroy the slavery of origins by fighting to the death. You destroyed the slavery of color by emancipating the servants. The time has come to set women free.
Facing persecution
Less than a month later, Ignacio Mora created the newspaper El Mambí, a tool for the insurgents to expose the reasons for the struggle. Ana was right by Ignacio's side, revising texts and writing manifestos. But, just three days later, they had to burn down the city where they lived to slow down advancing Spanish troops and go back to living in the fields.
On July 9, 1871, Ana Betancourt was captured and taken prisoner. She spent ninety days tied up under a pine tree being harassed by the enemy's chief. Even under death threats, she refused to help convince her husband to surrender. Finally, one night, she managed to escape.
Being the victim of political persecution, her only option was to leave the country. Like many emigrating Cubans, Ana Betancourt tried to survive in several countries, such as the United States, Mexico, El Salvador and Spain. She was in Jamaica when she was informed of the death of her husband, murdered with a machete. The news left her devastated.
The years of struggle, exile and the pain of Ignacio's death ended up taking a toll on her health. She used whatever little energy she had left to organize and encourage the Revolution, even going so far as to hand over the meager savings she had available to the new insurrection.
In 1898, the United States defeated the Cubans and a year later the military occupation began. This turn of events offered her the opportunity to return, but on February 7, 1901, just as she was preparing to do so, Ana died of a fulminant bronchopneumonia. Today, her remains lie in Guáimaro, where she once raised her voice to proclaim the rights of all Cuban women.
_____
[1] According to the website EcuRed, "The concept of criollo was used to refer to the natives of the island from the 16th century onwards. Therefore, they were identified, defined and grouped together based on traits that go beyond their parents' ethnicity, race, religion or origins."
---
Laritza Perez Rodriguez is a psychologist, feminist and activist for the rights of lesbian and bisexual women. She is a member and facilitator of the Labrys group. This text is an adaptation of "Ana Betancourt, la historia de una mujer irreverente", an original text published in Muchacha magazine on February 7, 2022.